Dressing actively contracts to close wounds
S. Himmelstein | July 29, 2019
While conventional bandages merely cover wounds, an active adhesive dressing developed by researchers from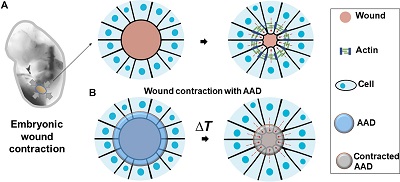 (A) Skin wounds of chicken embryo. An actin cable (green) is formed in the cells at the wound edges and contacts the wound. (B) Active wound contraction enabled by active adhesive dressing that adheres to and contracts the wound edges at the skin temperature. Red dashed arrows indicate the contraction. Source: S.O. Blacklow et al. Harvard University and McGill University, Canada, accelerates healing by fostering wound closure.
An adhesive alginate-based hydrogel is combined with a thermoresponsive polymer that both repels water and shrinks at around 90° F. The resulting hybrid hydrogel begins to contract when exposed to body temperature and transmits the force of the contracting polymer component to underlying tissue via strong bonds between the hydrogel and the tissue. Antimicrobial protection is provided by silver nanoparticles embedded in the bandage
The active adhesive dressing described in Science Advances bonded to pigskin with 10 times the force of a Band-Aid and was observed to reduce wound size area on mouse skin patches by around 45% relative to untreated wounds. The new material also closed wounds faster than microgels, chitosan and other treatments, and produced no inflammation or immune responses. The extent of wound closure affected by the dressing can be adjusted by controlling the amount of the polymer added during the manufacturing process.