Purdue researchers develop smartphone app that enables users to program robots to do mundane tasks
Marie Donlon | June 24, 2019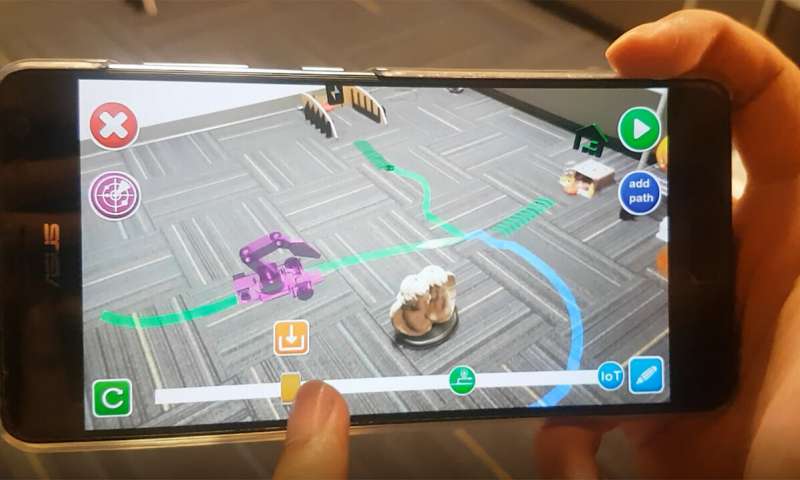 A smartphone app allows a user to plan a task for a robot to perform. The robot carries out the task automatically once the phone is loaded onto its docking station. Source: Purdue University image/C Design LabResearchers from Purdue University have developed a smartphone app prototype that enables users to easily program robots to perform monotonous tasks such as picking up objects and moving them elsewhere in either the factory or the home, for instance.
The smartphone app, dubbed VRa, uses augmented reality (AR) to enable users to "walk out" or map out how the robot should perform a task, according to the Purdue team. The app also allows users to detail how the tasks should be completed, for instance within a certain time frame, repeatedly or after a machine has completed its task.
Following programming, the smartphone is docked to the robot, where it acts as the brain and eyes of the robot, controlling its tasks and navigation. To enable the app to navigate and interact with its environment, user inputs build upon "simultaneous localization and mapping" — otherwise known as algorithms — also used in drones and self-driving cars.
To enable the robot to perform tasks that require wireless interaction with another machine or object, the user can scan the QR code of the object or machine during programming, thereby building a network of "internet of things." After docking, the smartphone (functioning as the robot), relies on the information scanned from the QR code to work with those objects and machines. To demonstrate how it is done, the team used the smartphone app to water a plant, vacuum and transport objects in the lab.
In addition to performing mundane tasks, the app also enables customers to record video while the phone is docked so that users can view and evaluate particular workflows.
"Smaller companies can't afford software programmers or expensive mobile robots," said Karthik Ramani, professor of mechanical engineering at Purdue. "We've made it to where they can do the programming themselves, dramatically bringing down the costs of building and programming mobile robots," he said.
Researchers suggest that in factory settings, the app is meant to complement worker productivity and not as a replacement for human workers.
"We don't undervalue the human. Our goal is for everyone to be able to program robots, and for humans and robots to collaborate with each other," Ramani said.
The team presented its work in San Diego on June 23 at DIS 2019, an international conference on designing interactive systems.