Raspberry-picking robot can pick 25,000 raspberries a day
Marie Donlon | May 29, 2019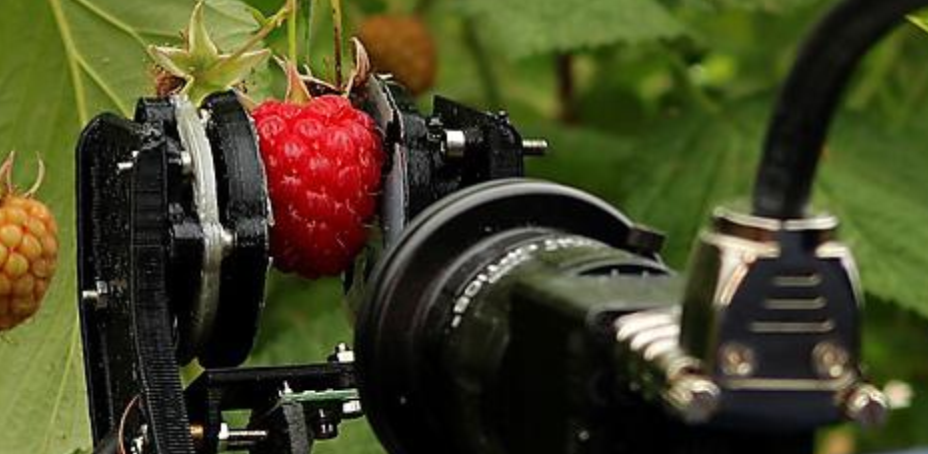 Source: University of PlymouthA raspberry-picking robot developed by a University of Plymouth spin-out is capable of picking as many as 25,000 raspberries a day, according to a recent trial of the technology.
U.K.-based Fieldwork Robotics, the University of Plymouth spinout company, recently trialed the robot on a West Sussex farm where it relied on machine learning techniques, 3D cameras and sensors to locate supermarket-ripe raspberries. Once identified, the robot used tong-like grippers to pluck the raspberries and place them in a basket.
The robot, which was devised by Plymouth University robotics lecturer Martin Stoelen, could potentially replace human workers amid labor shortages and increased wages, according to the company, as the machine is capable of working 20-hour shifts. Although the current iteration of Fieldwork's robot is outfitted with one arm, the wheeled device will be equipped with four arms in total, which are capable of picking over 25,000 raspberries a day, a substantial increase over the estimated 15,000 picked raspberries from humans working an eight-hour shift.
Fieldworks developers will attempt additional trials of the harvesting technology in the fall, using the data to refine and improve the robots. Fieldwork Robotics believes that the robots will not be limited to picking just raspberries in the future. Tweaks made to the current machinery could see the robots also eventually picking tomatoes and cauliflower. The team intends to begin manufacturing commercial picking machines in 2020.
This is not the first attempt to incorporate robotics into farming and food production. Organic farms are beginning to incorporate robotic weeders amid the rising cost in hand weeding and the use of fewer pesticides in farming. Similarly, a California-based startup has developed an autonomous apple-picking machine that suctions apples from trees, while retail giant Walmart is reportedly employing robotic pollination drones to assist with pollination as bee populations decline.