Self-driving machine suctions apples from trees
Marie Donlon | April 01, 2019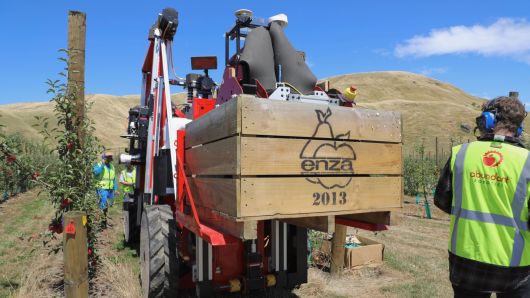 Source: Abundant RoboticsA California-based startup has developed an autonomous solution for apple picking.
Abundant Robotics has created a self-driving, tractor-like vehicle that travels through apple orchards with assistance from lidar technology. Using image recognition technology, the system is capable of determining the ripeness of apples and then suctioning individual apples off the tree and placing them in an onboard container.
Largely considered among the most difficult of agricultural tasks, apple picking was once thought to be difficult to automate due to the difficulty computers have seeing the fruit and because apples are delicate and vulnerable to damage. However, according to Abundant Robotics, the new machine improves apple-picking efficiency because it is able to operate day and night, carefully suctioning off apples without damaging them.
According to the machine's first customer, T&G Global, one of New Zealand's largest apple growers, apple picking is taxing work.
"To pick a hectare of apples involves pickers collectively doing something like 5 vertical miles going up and down ladders. With mechanization and robotics, it allows us to take out a lot of the heavy work," said Peter Landon-Lane, COO of T&G Global.
Although Advanced Robotics is reportedly the first to commercialize an automated apple-picking solution, many companies are following suit with a number of robots in the works that are capable of picking strawberries, cucumbers and tomatoes. Such technology is expected to fill the shortfall in the number of humans harvesting fruits and vegetables by hand.