Kinder Morgan Files Plan for LNG Export Project
Engineering360 News Desk | June 25, 2015
Gulf LNG Liquefaction Co. LLC and affiliated companies have filed an application with the U.S. Federal Energy Regulatory Commission (FERC) on June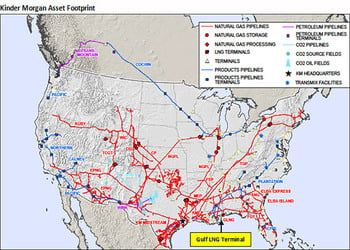 Source: Kinder Morgan19, seeking approval to build liquefied natural gas (LNG) export facilities at a terminal near Pascagoula, Miss. The project, estimated to cost $8 billion, would have two liquefaction trains and a total peak capacity of up to 11.5 million tons of LNG per year. It would have an expected send-out rate of 1.5 Bcf/d.
Kinder Morgan entities own 50% of the project, Thunderbird LNG LLC owns 30% and the remaining 20% is held by units of Arc Logistics Partners LP and Lightfoot Capital Partners LP.
The two-phase project, which is in the front-end design work stage, is expected to complete construction by the end of 2021. The applicants requested that FERC issues approval by June 17, 2016.