Climate adaptation planning tool designed to protect California coastline
S. Himmelstein | March 23, 2019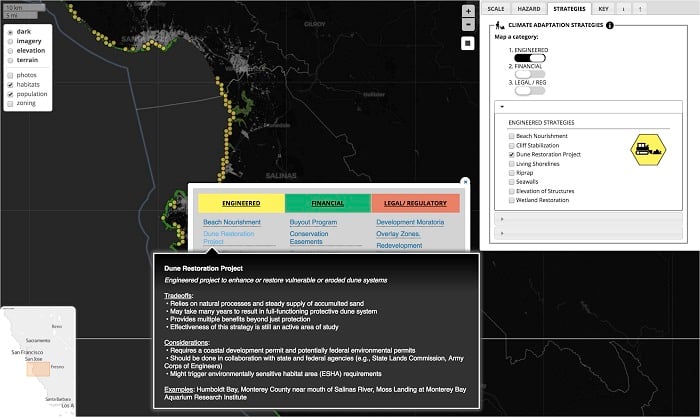 Screenshot of the online viewer tool highlighting coastal segments along Monterey Bay where a dune restoration project is feasible (yellow hexagons) in Monterey and Santa Cruz Counties. The tool enables users to filter from 15 adaptations strategies and list potential tradeoffs, policy considerations, and examples of successful implementation. Source: Stanford University
The vulnerability of the California coastline to rising sea levels and intensive storms associated with climate change has prompted development of a new framework for coastal climate adaptation planning. The methodology is based on climate and natural resource studies, along with legal and policy considerations to help guide ongoing climate adaptation planning efforts.
The analysis conducted by researchers from Stanford University and University of Santiago de Compostela, Spain, and published in Marine Policy, considered common planning concerns identified by government staff at the city, county and state levels, including information gaps, implementation barriers and legal questions. Working with these stakeholders, the researchers produced a synthesis of coastal adaptation tactics categorized into three main categories: engineered, financial and legal/regulatory. These tactics include interventions such as sand dune restoration, redevelopment restrictions and elevating structures.
To determine which adaptation strategies were most suitable, location limitations such as zoning restrictions and other sensitivities such as cultural values or cost concerns were also compiled. Coastal adaptation strategies were then identified and prioritized based on local features, and an interactive mapping tool that filters for the best location-based coastal adaptation strategies that limit coastal hazard threats was developed.
At some sites, nature-based strategies should be preferred for protecting coastlines while in other locations, policy-based approaches can help maintain adaptive capacity for future coastal planning decisions.