Origami combines with conductive ink to form smart sensors
S. Himmelstein | March 14, 2019
A multifunctional sensor capable of identifying and distinguishing different stimuli has been fabricated by combining a conductive ink with the principles of origami. Researchers from Technion-Israel Institute of Technology engineered the origami hierarchical sensor array as a single device that detects humidity, temperature, volatile organic compounds and other stimuli at high resolution of time and space.
The bioinspired conductive ink was synthesized by simple one-pot hydrothermal reduction of graphene oxide in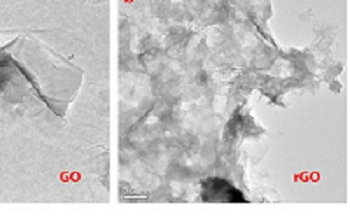 Optical Microscope images of composite made of polydopamine and graphene, coating (a) paper; and (b) flexible substrate made of polyimide. Source: Technion-Israel Institute of Technologydopamine, a catechol-derived molecule mimicking mussel-adhesive proteins. The ink attaches readily to aluminum foil, glass photo paper, polyimide film and other materials, and sensory responses can be partly tuned toward different stimuli by using different substrates.
One-, two-, six- and 22–layer paper and polyimide films loaded with the functional ink sensor were demonstrated to detect different physical and chemical stimuli simultaneously. The sensors distinguish between isomers and chiral enantiomers, an ability that can be of use in medical diagnostics.
The waterproof ink can also be applied to human skin and nails to form a health monitoring conductive tattoo. Sensitivity to volatile particles makes the multifunctional sensor, described in Nature Communications, a candidate tool for environmental monitoring.