HVDC line could export Iowa wind energy to eastern markets
David Wagman | March 12, 2019
A group that includes a unit of Siemens has acquired a planned project to build a nearly 350 mile long, 2,100 megawatt (MW), high voltage direct current (HVDC) electric transmission line to link wind energy resources in Iowa with demand load centers in the eastern U.S.
The 525 kilovolt (kv) project would cost around $2.5 billion and could enter service by 2024. Local, state and federal approvals would be required before construction can begin.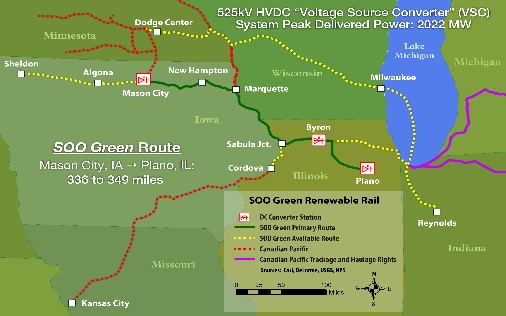 (Click to enlarge.) Route map of proposed HVDC line. Source: Direct Connect DevelopersIf approved, the SOO Green project would be buried and follow a route from Mason City, Iowa, to Chicago. The route in part would follow existing railroad lines, primarily along the Canadian Pacific railroad.
Primary investors include Copenhagen Infrastructure Partners, Jingoli Power, and Siemens Financial Services. Direct Connect Development Co. is leading the project team.
According to transmission equipment provider ABB, which helped to pioneer the technology, electric power is taken from one point in a three-phase AC network, converted to DC in a converter station, transmitted to the receiving point by an overhead line or cable and then converted back to AC in another converter station and injected into the receiving AC network.
About 130,000 MW of HVDC transmission capacity is installed in more than 140 projects worldwide. ABB said that the first commercial HVDC scheme was commissioned in 1954. It linked the Swedish mainland with an island in the Baltic sea. The power rating was 20 MW and the transmission voltage was 100 kV.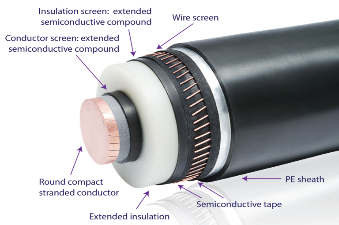 (Click to enlarge.) Details of HVDC cable. Source: DCCThe technology improved in 1970 when thyristor valves replaced mercury arc valves. This reduced the size and complexity of HVDC converter stations, ABB said. More recently, microcomputer control equipment has led to additional improvements.
(Learn more from Engineering360 about HVDC standards.)
Project details
In the proposed Iowa project, the cables would be buried in a 2.5 ft wide x 5 ft deep trench, mostly along the railroad right of way. Burying the lines and co-locating the project with the railroad is expected to streamline permitting and avoid at least some landowner opposition.
The Des Moines Register newspaper said that after running into opposition from landowners, Rock Island Clean Line in 2016 withdrew its plans for a $2 billion, 500 mile overhead transmission line that would have moved energy from northwest Iowa to Illinois.
Direct current technology also may be a factor in co-locating the line along the railroad right of way. Previous attempts to share railroad corridors failed because alternating current technology interfered with railroad signals.
SOO Green would be a merchant transmission line, meaning that utilities or other wholesale power customers that buy transmission service on the line would pay for it.
Wind leader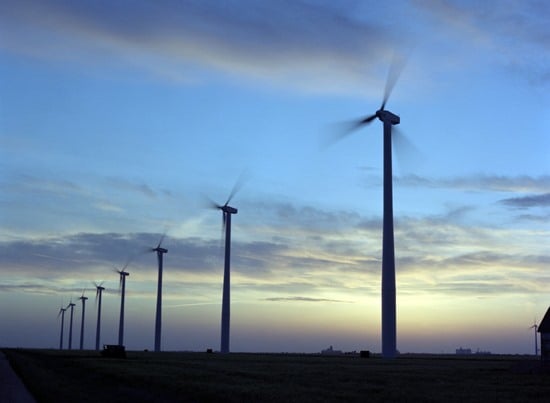 The HVDC line could transport wind energy produced in Iowa to markets in the east. Source: NRELThe American Wind Energy Association (AWEA) said that in 2017 Iowa generated 37% of its electricity from wind power. The state ranked first in the nation for wind energy as a share of total electricity generation. Iowa ranks second in the nation for installed capacity with 8,422 MW from more than 110 projects. Another 1,667 MW of capacity is under construction. AWEA said that 1,600 MW is in advanced stages of development.
The SOO Green project initially was owned by an unnamed group of private investors and Canadian Pacific, the Des Moines Register said. In addition to being a new investor in the project, Siemens was tapped to manage design, engineering and manufacturing of HVDC converter stations.
Copenhagen Investment Partners opened a New York office in 2018 and holds a 50% stake in Vineyard Wind LLC, an offshore wind farm in the waters off of Massachusetts. It also has invested in several wind and solar projects across the United States.