National Grid Eyes HVDC Line for New England
David Wagman | April 04, 2017
National Grid proposed developing a transmission project that would bring up to 1,200 megawatts of hydroelectric generation from Canada to the New England power grid. The proposed Granite State Power Link (GSPL) would be built almost entirely along existing transmission corridors and would use existing infrastructure.
As proposed, the GSPL would be made up of two segments: first, a high-voltage, direct current (HVDC) overhead line located in Vermont alongside an existing HVDC line in an expanded right-of-way corridor from the international border at Norton, VT, to a proposed converter station on National Grid-owned property in Monroe, NH.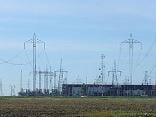 HVDC lines in Canada.The second segment would upgrade an existing National Grid overhead line in New Hampshire to accommodate the additional power flow from the new HVDC line. That line runs from Monroe to southern New Hampshire, where a proposed switching station would be built.
An HVDC system uses direct current for the bulk transmission of electrical power, in contrast with the more common alternating current (AC) systems. For long-distance transmission, HVDC systems may be less expensive and suffer lower electrical losses.
Development costs of the proposed New England line would be funded by National Grid and its investors, not customers of its regulated companies.
The project could lower energy costs across New England by $1.1 billion over its first 10 years of operation, National Grid says in statement.
National Grid built, co-owns, and operates one of the first HVDC systems in the U.S., connecting New England and Canada. In the UK, National Grid co-developed and co-owns interconnectors to France and the Netherlands, and is developing others to connect the UK to Norway and Belgium. A second link to France is under consideration, along with interconnectors to Denmark and Iceland.