NREL minimizes uncertainty in PV performance measurement
Amy J. Born | February 27, 2019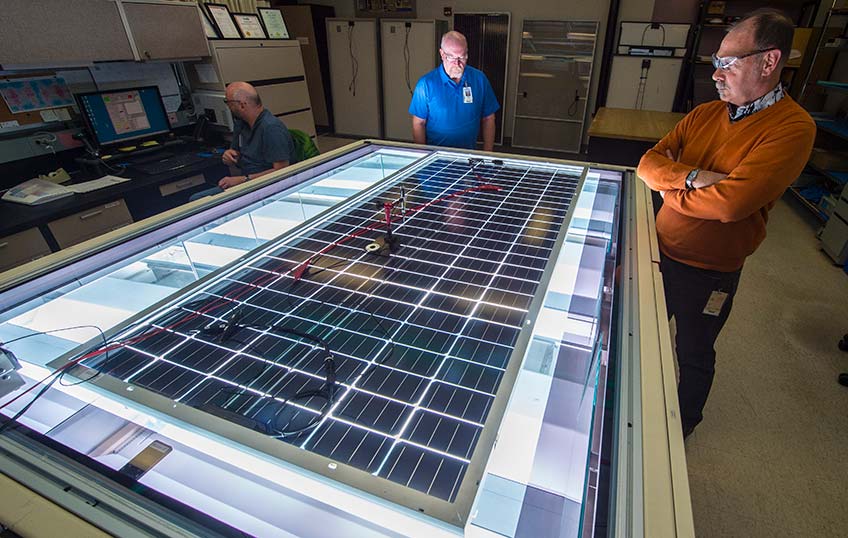 Allen Anderberg (left), Steve Rummel and Dean Levi of NREL's Cell and Module Performance group measure the power output of a PV module on NREL's solar simulator. Source: Dennis Schroeder, NREL
Some degree of uncertainty is unavoidable in business, so anything that can significantly minimize it is generally welcome. That seems to be the case with the $30 billion solar industry and a new way to measure the efficiency of photovoltaic (PV) technology that has been implemented at the U.S. Department of Energy's (DOE's) National Renewable Energy Laboratory (NREL).
After four years of improving how it measures PV module efficiency, NREL announced that it has "the lowest uncertainty rate when it comes to measuring the power of a PV module, at plus or minus 1.1%," according to a recent press release.
This is significant because manufacturers charge for PV modules based on watts produced. Dan Levi, manager of the Cell and Module Performance group in the National Center for Photovoltaics at NREL, explained that manufacturers have been charging, for example, the price of a 300-watt module for one that actually generates 309 watts, based on a typical power tolerance of -0% to 3%. By reducing the uncertainty to plus or minus 1%, he said, manufacturers can now sell that same module as a 306-watt module. At the current price of 30 cents per watt, that amounts to an increase of $1.80 per unit, which doesn't seem like much, but for large manufacturers who produce 30 million of those modules a year, equates to an additional $50 million in annual revenues.
NREL is one of the four laboratories that provide the greatest accuracy in measurements of PV cells and modules. (The others are in Germany, Italy and Japan.) A manufacturer typically sends two modules of the same model type to NREL's campus in Golden, Colorado, for calibration. There, the output performance of each module is measured and certified, plus or minus 1.1%. The modules are then returned to the factory and their output is checked against the company's solar simulator, a device that uses light close to sunlight to illuminate the module. The accuracy of the measurement of the light output of the simulator is crucial and represents one of the main uncertainties in the process, according to Levi.
That uncertainty comes from the fact that light from a simulator isn't as uniform as sunlight. NREL's procedure first calibrates the current produced by a module outdoors, where the light source is uniform. This "golden module" allows manufacturers to set the light output of their simulators with great accuracy.
While the price per watt has decreased considerably (30 cents per watt today compared to $5 per watt in 2008) and the flood of PV startups sending modules to NREL for measurement has slowed to a trickle, Levi stated that providing the most accurate measurement possible is still significant for utility-scale power plants financed by banks. "If a bank perceives more risk in a project, they're going to charge a higher interest rate. And that interest rate directly impacts the cost of the power that project produces," he said.
On the flip side, however, Levi added that the DOE has identified increased investor confidence as a pathway to reduced solar energy costs.