Engineering ways to reduce clothing waste
Lauren Mineau | March 08, 2019
With the recent popularity of professional organizer Marie Kondo's Netflix show, "Tidying Up with Marie Kondo," more people are decluttering and getting rid of clothing and other material goods. A bigger problem may be emerging, however.
An overabundance of inexpensive and quickly made clothing, known as fast fashion, is creating an environmental and social crisis.
A paper from environmental health researchers at Washington University in St. Louis details the problem. The paper, "The global environmental injustice of fast fashion," co-authored by Rachel Bick, Erika Halsey and Christine Ekenga, was published in the journal Environmental Health.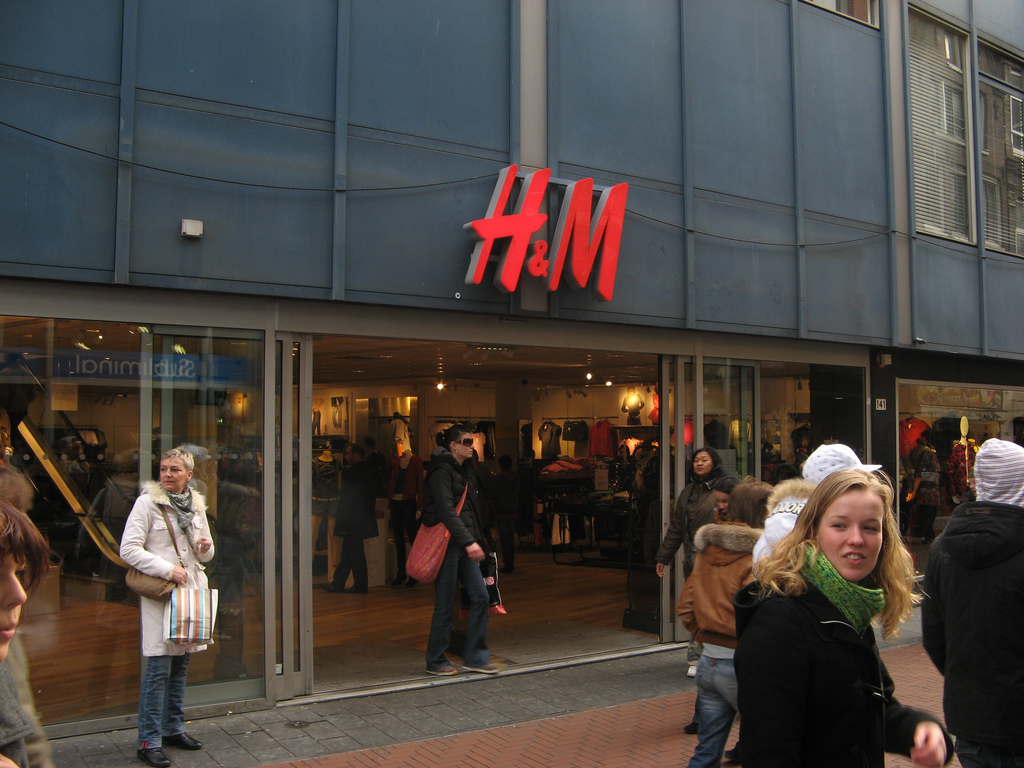 H&M is a popular fast fashion retailer.
"From the growth of water-intensive cotton, to the release of untreated dyes into local water sources, to worker's low wages and poor working conditions; the environmental and social costs involved in textile manufacturing are widespread," the researchers wrote.
Fast fashion offers consumers a way to buy into trends at a low cost and with less guilt attached to clothing when it is no longer wanted. But that increased consumption is creating millions of tons in textile waste, particularly in low- and middle-income countries (LMICs), the report said.
The average American throws away approximately 80 pounds of textiles each year, which in turn occupies nearly 5 percent of landfill space. According to the Environmental Protection Agency, in 2015, 16,030 tons of textiles were generated, 10,530 tons of which ended up in landfills.
Garments that do not end up in the landfill become part of the nearly 500,000 tons of used clothing exported overseas annually. Much of this is compressed into 1000-pound bales and exported for sale. Ironically enough, many of these bales end up back in LMICs where they originated, according to Ekenga and Bick.
Issues related to reusing and recycling materials has captured the imagination of multiple researchers who are developing innovative approaches to the fashion industry's supply chain issues.
Jeans to joints
Dr. Nolene Byrne and Ph.D. candidate Beini Zeng at Deakin University in Australia developed a process to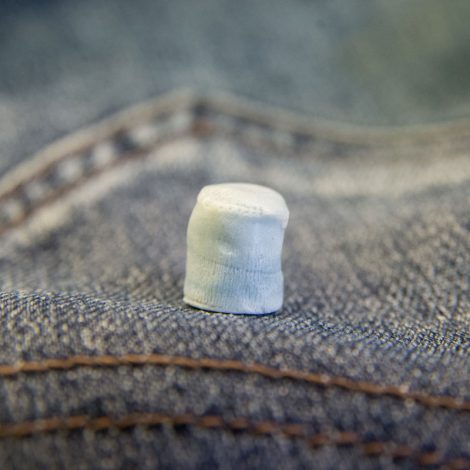 As well as providing a cartilage supplement, the denim recycling technique could help fight textile waste. Source: Donna Squire
transform old denim jeans into artificial cartilage for joint reconstruction. They discovered how to dissolve denim and manipulate the remains into an aerogel. The results are a low-density material with many uses from artificial cartilage, water filtration or even as a separator in advanced battery technology.
Bryne said the process is successful because denim's cotton makeup is a natural polymer comprised of cellulose.
"Cellulose is a versatile renewable material, so we can use liquid solvents on waste denim to allow it to be dissolved and regenerated into an aerogel, or a variety of different forms," she said.
One drawback is that the process can be costly due to the chemicals used, Byrne said. Currently, the discovery is in pilot-scale trials with the hope of being at a commercial scale within a few years.
Break down and reuse
A research team in Finland recently developed a recycling technique that turns cotton-polyester clothing into lyocell-like fibers. With this discovery, clothing could be recycled multiple times, helping to keep it out of the landfill.
Herbert Sixta of the Aalto University led the research effort. The team found an ionic liquid (liquid salt) that can dissolve cellulose from wood pulp. The result was a material that could be spun into fibers. The conversion process is known as Ioncell.
The Finnish researchers tested the liquid on a poly-cotton blend and found that it dissolved the cotton but left the polyester intact. Further testing found that the fibers are strong like viscose and feel similar to lyocell (known as its brand name Tencel), which is a fiber favored by many eco-conscious clothing makers.
"We want to not only recycle garments, but we want to really produce the best possible textiles, so that recycled fibers are even better than native fibers," Sixta said.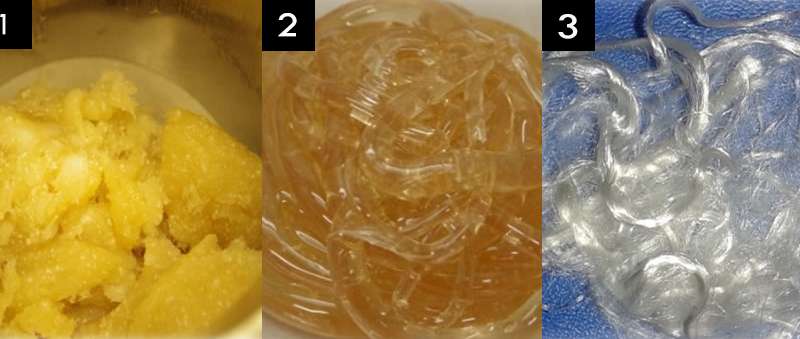 Recycling cotton-polyester clothes is closer to reality with a new method that can (1) dissolve the blended materials, (2) separate the cellulose and (3) spin new lyocell-like fibers. Source: Simone Haslinger/Herbert Sixta, Ph.D.
The researchers are now testing to learn if the recovered polyester could be spun back into usable fibers. Future research could include examining the dyes that are used on discarded clothing and determining if they can be extracted and repurposed. The discoveries so far are significant, but more work is ahead, Sixta noted.
"We can handle the science, but we might not know what dye was used, for example, because it's not labeled," he said. Industry and policymakers have to work on changes to make that sort of information more readily available.
The team hopes to create a complete clothing line by 2020 and may be off to a good start. At a university gala last year, Finland's First Lady Jenni Haukio wore a dress composed entirely of the fabric.
From trash to backsplash
Researchers at UNSW Sydney created a process to repurpose old clothing into high-quality building materials. A team led by Professor Veena Sahajwalla, director of UNSW's Centre for Sustainable Materials Research and Technology (SMaRT), have been working to scientifically breathe new life into commonly trashed items.
The recycled textile materials tested very well for strength, flexibility and resistance. Further testing is required before the material is considered for use in any major construction project. The material can have either a wood veneer look or ceramic tile finish, comparable to a sample one may see at Home Depot.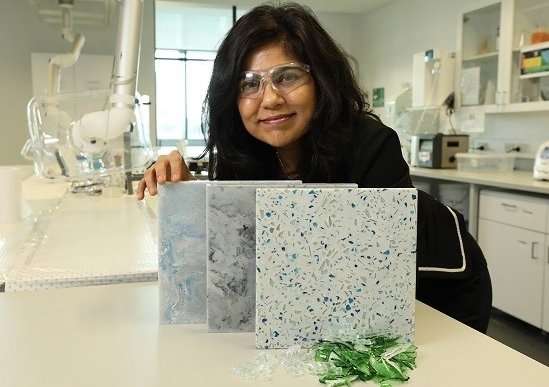 Professor Veena Sahajwalla, Director of UNSW's Centre for Sustainable Materials Research and Technology (SMaRT), with glass waste ceramic tiles. Source: University of New South Wales
This discovery follows a different but related research exercise done by the research team that converted used glass into ceramics suitable for use in kitchens and bathrooms.
The SMaRT team's mission is to find ways to turn low-value waste items into high-quality building products. Sahajwalla has a few sustainably engineered successes under her belt already, including her invention to recycle car tires into usable steel. The discovery has already helped save more than two million tires from going into Australian landfills.
She's also the mind behind UNSW's green microfactory, where many of these sustainable breakthroughs are happening. What started as a way to work on innovations to cut down on electronic waste has grown into much more.
"Rather than export our rubbish overseas and to create more land fill, green microfactory technology has the potential to enable small- and large-scale creation of newly manufactured products instead," Sahajwalla said.
Sahajwalla said she hopes that someday the microfactory model can help small communities repurpose their waste products without transportation costs.
"These microfactories can transform the manufacturing landscape, especially in remote locations where typically the logistics of having waste transported or processed are prohibitively expensive. This is especially beneficial for the island markets and the remote and regional regions of the country," she said.
Global Recycling Day, held on March 18, hopes to educate businesses, communities and individuals about the importance of recycling for the environment. This year, the organization hopes to highlight innovative ways to recycle and foster better concepts for the future.
Further reading:
Why do we need a fashion revolution?
Scientists Are Turning Old Clothing Into Building Materials