Engineers and Designers Manufacture Dress from Sustainable Wood Fibers
Marie Donlon | December 21, 2018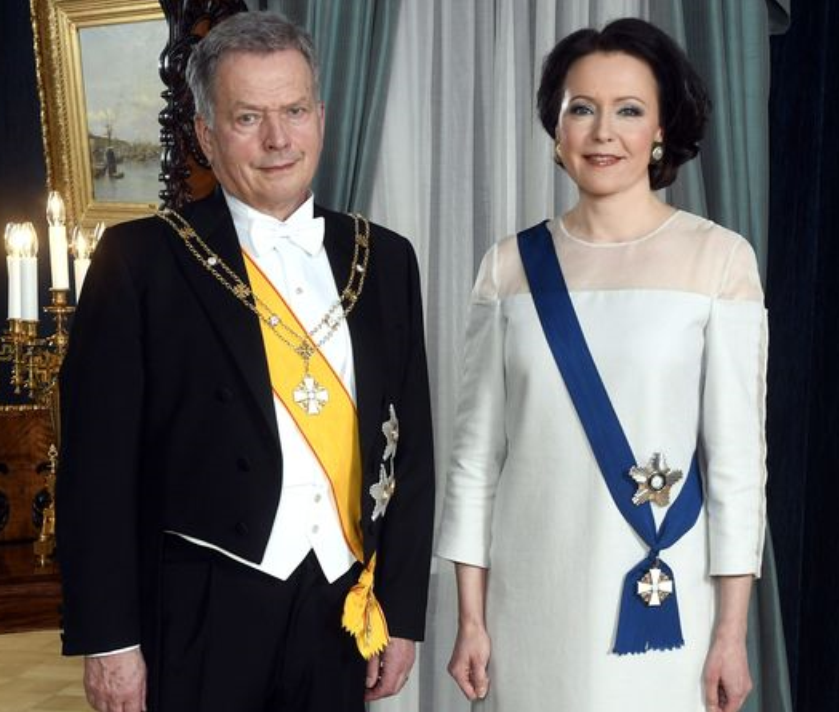 Jenni Haukio, with President Sauli Niinistö, in the evening gown made of 100% birch-based Ioncell fabric at the Finnish Independence Day reception. Source: Vesa Moilanen/LehtikuvaWhat better way to become one with nature than to wear it? This is the philosophy at Finland's Aalto University, where researchers are using a new sustainable technology to create clothing from wood.
The process, called Ioncell, creates textile fibers from materials such as wood, recycled newspaper, old cotton textiles and cardboard. These fibers are sewn into jackets, dresses, scarves and iPad cases.
The material is sourced from scrapped birch tree timber in the eastern forests of Finland, where forest overgrowth is being thinned to promote tree growth.
Hoping to shine a spotlight on the fashion industry's impact on the environment — an industry that is responsible for 10% of global carbon emissions and that uses roughly 70 million barrels of oil annually to manufacture polyester fibers — Finland's first lady Jenni Haukio wore a dress composed of birch trees from the university to a recent state gala.
The majority of the fashion industry's environmental impact stems from the use of plastic microfibers to create synthetic clothing. Once discarded, the material doesn't breakdown. Instead it sits in landfills or makes its way into the oceans. Environmentalists actively campaign against the industry and call on consumers to shop for new clothing less often and purchase second-hand clothing items instead.
However, fashion companies typically have new product releases each season. The Ioncell team of engineers and chemists from Aalto and Helsinki universities thought clothing made from sustainable materials and also made by an actual designer might be more appealing to the fashionable consumer.
Professor Pirjo Kaariainen of Aalto University explained: "It was designed by a young fashion and design student here at Aalto who wanted to give respect to Finnish nature and to the country's tradition of strong women."
Professor Kaariainen described the material as "soft to touch, it has a lovely sheen and falls beautifully."
The Aalto team is attempting to complete a clothing line using the birch tree fiber by 2020. They are not alone in their quest to lessen the fashion industry's impact on the environment. Scientists from the University of New South Wales are attempting to turn discarded clothing into construction materials. Meanwhile, researchers in London recently demonstrated how to insulate homes using discarded duvets and old, worn jeans.