Chinese hot pot restaurant debuts AI-driven kitchen
Marie Donlon | February 14, 2019
The kitchen of a popular Chinese restaurant is now helmed by an autonomous robotic system capable of food preparation.
The Beijing restaurant in the Haidilao chain of restaurants, which specializes in Szechuan-style hot pot cuisine where raw meat and vegetables are cooked in a pot of flavored soup, no longer relies on humans for food prep tasks in the kitchen. Instead, robotic arms created in collaboration with tech giant Panasonic carry out those tasks by gathering and preparing ingredients and individualized dishes according to customer requests. While food prep takes place in the artificial-intelligence (AI)-driven kitchen, customers can view the robotic arms in action from their tables via large screens situated throughout the restaurant. Once completed, the food is ushered to waiting patrons by any one of six robots.
The robotic arms aren't only capable of cooking and food prep: they can also manage food waste in the kitchen by using ingredients before expiration dates. Likewise, the robotic chefs can store customer preferences in the cloud for future visits.
Although much of the work at the restaurant is automated, a staff of roughly 150 humans also assist with tasks in the restaurant including running food to tables when the robots are overwhelmed and assisting customers as they make their selections using iPads. Eventually, the restaurant intends to reduce the number of humans on the premises, but the chain also acknowledges that an entirely autonomous restaurant isn't likely for now.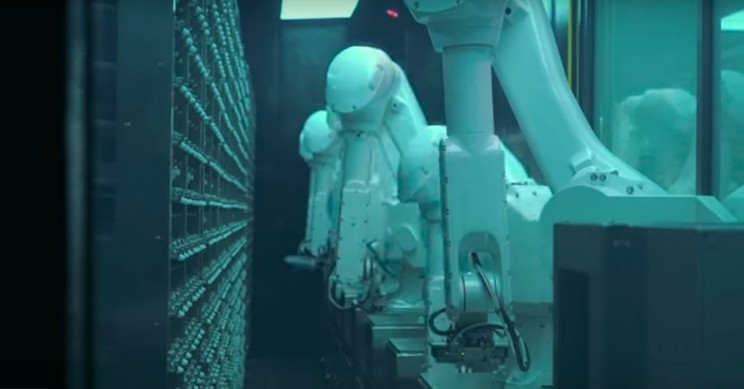 Source: SCMP/YouTube
"…it would never be possible for a restaurant to go unstaffed…It is said that dining is a combination of two: before the dish comes to table, it's logistics; but after that, it's called service," said Haidilao chief information officer Shao Zhidong.
Haidilao isn't the only restaurant embracing automation. Robotics are quickly becoming a staple in kitchens and restaurants the world over. A restaurant in Nepal recently debuted its robotic wait staff while a robotic wait staff at a restaurant in Japan works on behalf of those with mobility issues.
While the Beijing restaurant is the first in the chain of Haidilao restaurants to test the autonomous kitchen, the company expects to bring similar technologies to other restaurants in the chain in the near future.
To see the autonomous kitchen, watch the accompanying video that appears courtesy of South China Morning Post.