Nepal's First Robotic Waitstaff is Now Taking Orders
Marie Donlon | November 16, 2018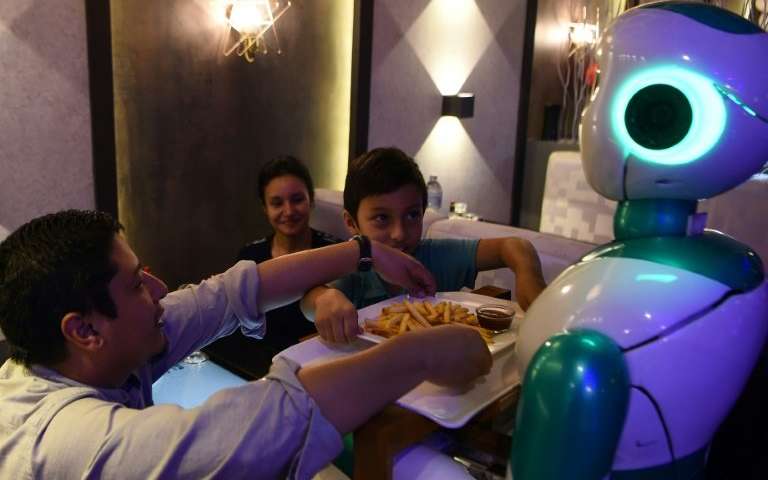 Source: AFPAs diners settle in for a meal at Nepal's Naulo restaurant, they might be in for a bit of a surprise: the waiter is a robot.
Actually, three robots are on the wait staff at Naulo, delivering food from table to table thanks to a group of self-taught innovators from Paaila Technology who created all three conveniently named "Ginger."
The humanoid robots were built from scratch and stand at five feet tall. All three Gingers have been programmed to understand English and Nepali and they can adeptly navigate a busy restaurant while carrying trays of food.
Customers at the recently opened Naulo, located in Nepal's capital city of Kathmandu, order from a touch-screen menu and one of the Gingers, with only some assistance from the human wait staff, will deliver food to the tables.
The allure of Nepal's first robotic waiter is drawing in crowds of all ages, surprising diners that such sophisticated technology was built in the impoverished country.
"They look so good. I could not believe they were made in Nepal," said Neelam Kumar Bimali, a diner at Naulo.
Though Nepal is not known for having much of a tech infrastructure, the engineers from Paaila made do with what was available to create Ginger, for instance using a local car workshop to paint Ginger, giving the robot a sleek plastic exterior.
Awaiting certain updates that would improve the technology, Naulo hopes to one day soon have the restaurant entirely staffed by robots while Paaila Technology is currently awaiting a patent on the technology, hoping to bring Ginger to the world market.