Gas-fired power plants are getting bigger, EIA says
David Wagman | February 12, 2019
Driven by economics and efficiency gains, the average size of a natural gas-fired combined-cycle power block has increased significantly since 2014.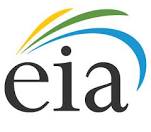 According to data from the Energy Department's Energy Information Administration (EIA), the average size of a natural gas-fired combined-cycle power block installed between 2002 and 2014 was about 500 megawatts (MW). After 2014, power block capacity increased, reaching an average of 820 MW in 2017.
EIA said that power blocks have increased in size as the performance of combined-cycle units has continued to improve, and as current and projected natural gas prices and supply offer a competitive advantage for the technology.
Combined-cycle systems are combustion and steam turbines that operate in groups that are commonly referred to as power blocks. The most common configuration, EIA said, pairs two combustion turbines with one steam turbine.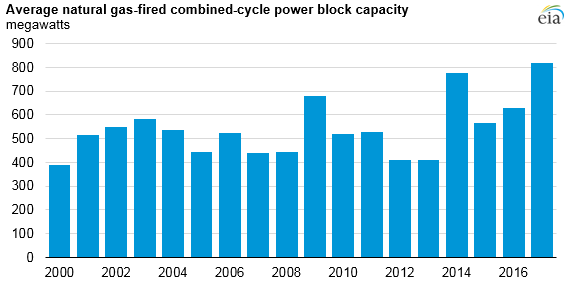 Source: EIAData show that most of the installed capacity of natural gas-fired combined-cycle units comes from power blocks that have capacities of 600 MW to 700 MW. Of the 644 natural gas-fired combined-cycle power blocks installed nationwide, 16% are within this range, EIA said. Two-thirds of the power blocks installed in 2017 had capacities of 600 MW or greater.
Factors such as operating cost and performance affect power block sizing. The heat rate of a generator, measured as the amount of British thermal units (Btu) required to generate a kilowatthour of electricity, is commonly used to represent commercial generator efficiency.
EIA said that the trend toward larger combined-cycle power blocks can largely be explained by the efficiency gains (lower heat rates) available from larger power blocks. For example, the average heat rate of power blocks less than 500 MW is 6% less efficient than that of power blocks larger than 1,000 MW. Larger power blocks also tend to have lower per-unit capital costs, making them more attractive investments.
(To express the efficiency of a generator or power plant as a percentage, EIA divides the equivalent Btu content of a kWh of electricity — 3,412 Btu — by the heat rate. For example, if the heat rate is 10,500 Btu, the efficiency is 33%. If the heat rate is 7,500 Btu, the efficiency is 45%.)
Lower heat rates mean that a plant is able to generate more electricity for each Btu that it consumes. Source: EIAIn December, Duke Energy said that a two-unit, 1,640 MW combined-cycle natural gas power plant in Citrus County, Florida, had entered service. The station has two power blocks, each with two combustion turbines and one steam generator. The new station replaces electric power from two 1960s-era coal-fired units and a nuclear plant.
And in January, Siemens said it will supply natural gas power generation hardware, software and service support to re-power Cooperative Energy's R.D. Morrow, Sr. Generating Station facility in Purvis, Mississippi. The project will re-power the facility's existing coal-powered steam turbines to a combined cycle configuration. Once complete, the power plant will have a gross installed electrical capacity of nearly 550 MW and will supply electricity to Cooperative Energy's 11 member cooperatives, which serve around 430,000 customers.