Chicago gambles on The Loop's unproven transit technology
Kevin J. Harrigan | January 23, 2019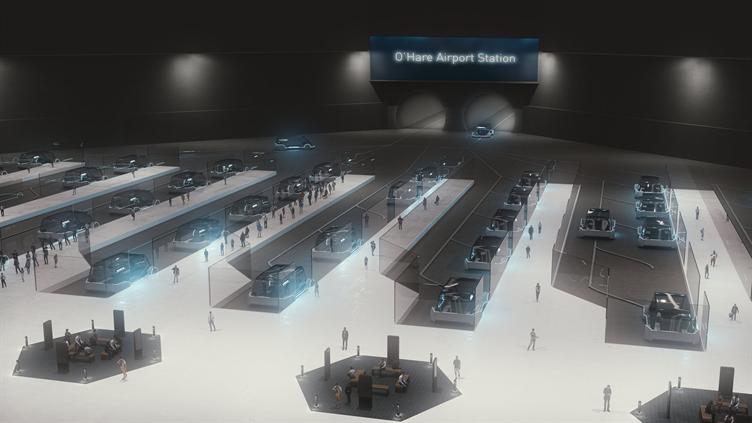 An artist's rendering of the downtown terminal for the Chicago Express Loop. Source: The Boring Co.
Last year, the city of Chicago and The Boring Co., brainchild of tech entrepreneur Elon Musk, announced their intention to build the Chicago Express Loop. The Boring Co. was selected after the city's request for proposals for a new, privately funded transit solution between downtown and O'Hare International Airport. Boring Co.'s innovative transit technology would get riders from Block 37 to the airport in just 12 minutes, a commute that currently takes more than 40 minutes.
The Chicago Express Loop consists of twin 18-mile long underground tunnels where riders exceed travel speeds of 100 mph. Vehicles would be small, bus-like electric vehicles, called electric skates, that accommodate 12 to 16 passengers plus luggage. The electric skates are based on Tesla technology, another Musk venture, which should help speed vehicle development and reduce costs. Electric skate departures could be as frequent as twice a minute.
The Loop would cost about $1 billion to construct and Musk has optimistically stated that it could be running as early as 2021. Funding for the Chicago Express Loop will be provided entirely by The Boring Co. in exchange for ownership and operating rights. Fares for riders would reportedly be less than a taxi or rideshare, but more than a subway trip.
There is no doubt that if successful, the Loop would be boon to both Chicago commuters and The Boring Co. Yet the fact remains that Chicago has wagered on a technology that does not have a faithful prototype and a company that has not delivered a major infrastructure project ever before.
Embarking on The Loop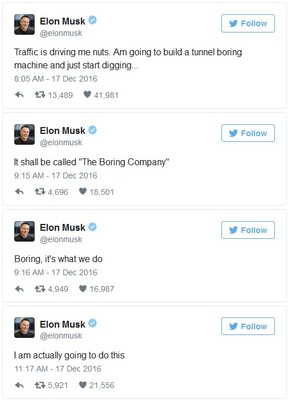 Inspiration for The Boring Co. Source: @elonmusk
After a frustrating L.A. traffic jam in December 2016, Elon Musk declared on Twitter he was inspired to build tunnels underneath congested cities for expediting cross-town travel. He said he would call the company The Boring Company, which some in his audience interpreted as a joke. Just a few days later The Boring Company officially existed.
According to The Boring Co., tunnel infrastructure projects tend to be some of the most expensive infrastructure investments governments make, in some cases costing $1 billion or more per mile excavated, which is the entire cost of the proposed 18-mile Chicago Express Loop. Extravagant costs severely delay or kill many other ambitious tunnel infrastructure projects.
The Boring Co. states it has innovated tunneling technology in several key ways. First, it has shrunk the standard size of an automotive tunnel from 28 ft to 14 ft, decreasing tunneling costs by a factor of three or four. Tunnel boring machines (TBMs) are traditionally diesel locomotives, but switching to heavy-duty electric locomotives can triple the TBM power output if the cooling systems are upgraded as well. Traditional TBMs also have significant downtime while a tunnel is structurally reinforced or aggregate is removed, but a more efficient workload organization means the TBM can dig nonstop. Finally, automating the TBM eliminates one of the biggest productivity variables: humans. The result, according to the company, is tunnel construction 14 times faster - and much cheaper - than other excavation technologies.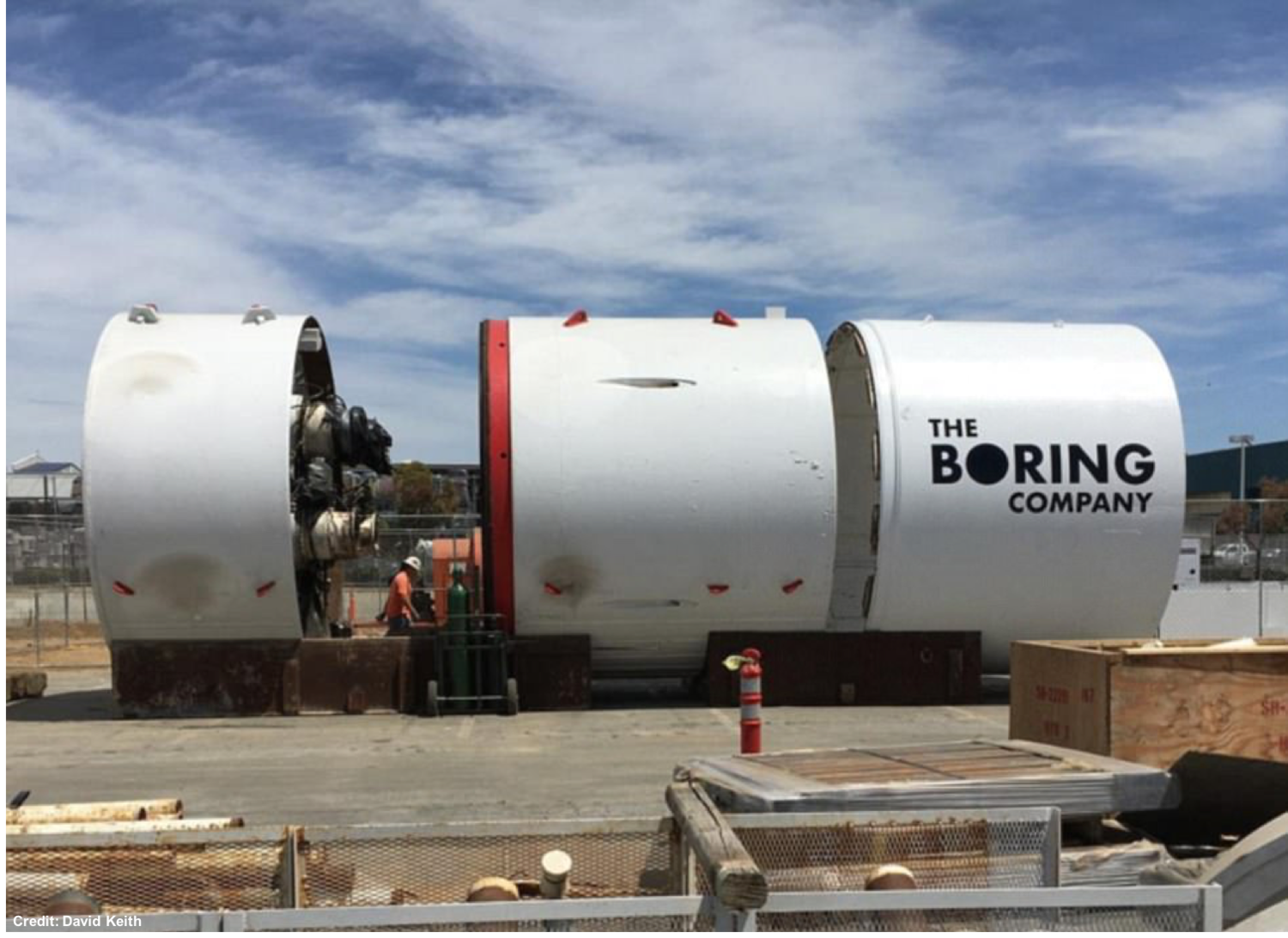 One of The Boring Co.'s TBMs. Source: The Boring Co.
[Learn more about tunnel boring machines on GlobalSpec.)
A prototype emerges
Last December, The Boring Co. unveiled a prototype, simply dubbed The Loop. It is a 1.1 mile-long proof-of-concept express tunnel excavated below the SpaceX (yet another Musk company) offices in Hawthorne, California.
To enter The Loop, riders climb aboard a Tesla Model X outfitted with side-friction wheels. The vehicle enters a garage bay outfitted with an elevator, which descends to an underground track inside a narrow, 12 ft wide tunnel. The elevator aligns the Tesla along two concrete ledges, which serve as the track for the vehicle. Two parallel, horizontal ledges support the vehicle tires, and two adjacent perpendicular ledges support side-friction wheels mounted on the vehicle to steer it through turns.
Once given the green light, the vehicle disembarks through a neon blue-hued tunnel, reaching speeds of almost 50 miles an hour. Since the cars operate in an enclosed space all vehicles need to be electric and according to Musk some level of autonomy is required as well.
In a briefing, Musk noted that the company had run out of time to refine the wheel ledges, so riders were subject to a bumpy ride, which decreased travel speeds in the prototype. Boring Co. had previously delayed the $10 million tunnel debut by a week.
The next goal for The Loop., according to Musk, is a throughput of 4,000 cars per hour at speeds up to 155 mph. Cars would exit future versions of The Loop via exits and off-ramps that deliver vehicles street level. To increase usage, public and shared transportation would be subject to a $1 fare, but private vehicles would pay $4. In a tweet, Musk clarified that pedestrians and cyclists could ride future Loops in dedicated public vehicles.
These are ambitious goals that must be met quickly. In addition to the scheduled Chicago Express Loop, Boring Co. has proposed Loops for Baltimore and Los Angeles, as well.
Project detours
An artist's rendering of the electric skate that will shuttle passengers between downtown Chicago and O'Hare International Airport. Source: The Boring Co.
There are notable differences between The Loop and the proposed vision for the Chicago Express Loop. Tunnel construction quality for The Loop prototype could not support a traditional electric vehicle at speeds over 50 mph, so it likely would not accommodate a larger, dedicated electric shuttle at twice that speed. Also, The Loop ran Model Xs, a notable contrast from the electric skates anticipated for the Chicago design.
Proofs of concept rarely have the polish of a final product, so these are excusable deviations. However, it remains clear that significant engineering hurdles remain to deliver the Chicago Express Loop as promised. Plenty of skeptics and critics of the Chicago Express Loop remain as well.
"There's reason to be skeptical," said Jim Hambleton, a Northwestern University assistant professor in civil and environmental engineering, to the Chicago Tribune. "Tunneling is an endeavor that's filled with uncertainty."
Hambleton indicated that perhaps the greatest challenge would be tunneling at the proposed rate of speed while controlling sediment to not induce tremors or structure damage at ground level.
Additionally, public opinion on the Chicago Express Loop is mixed and community activism is present. A prototype Loop in Los Angeles, separate from the currently proposed one, was canceled last year after lawsuits and complaints
The Active Transportation Alliance (ATA), a Chicago transit advocacy group, feels the Chicago Express Loop is a misguided effort.
"There are many higher priority transit projects in the Chicago region that would better connect people to jobs and help build healthier, more sustainable and equitable communities," said Kyle Whitehead, managing director of public affairs for ATA, to Engineering360. "For example, the Red Line Extension, upgrades to the Metra Electric District line, and Blue Line investments to address speed and capacity issues. These projects and others would deliver greater public benefit high-need communities across the region."
Whitehead expressed that even though the Chicago Express Loop will be privately financed, it still consumes public planning resources, could create unintended public infrastructure costs, and the current proposal lacks safeguards to prevent public expenses during construction and operation. And it doesn't serve Chicago's arguably greatest need: reliable, affordable public transit in underserved neighborhoods.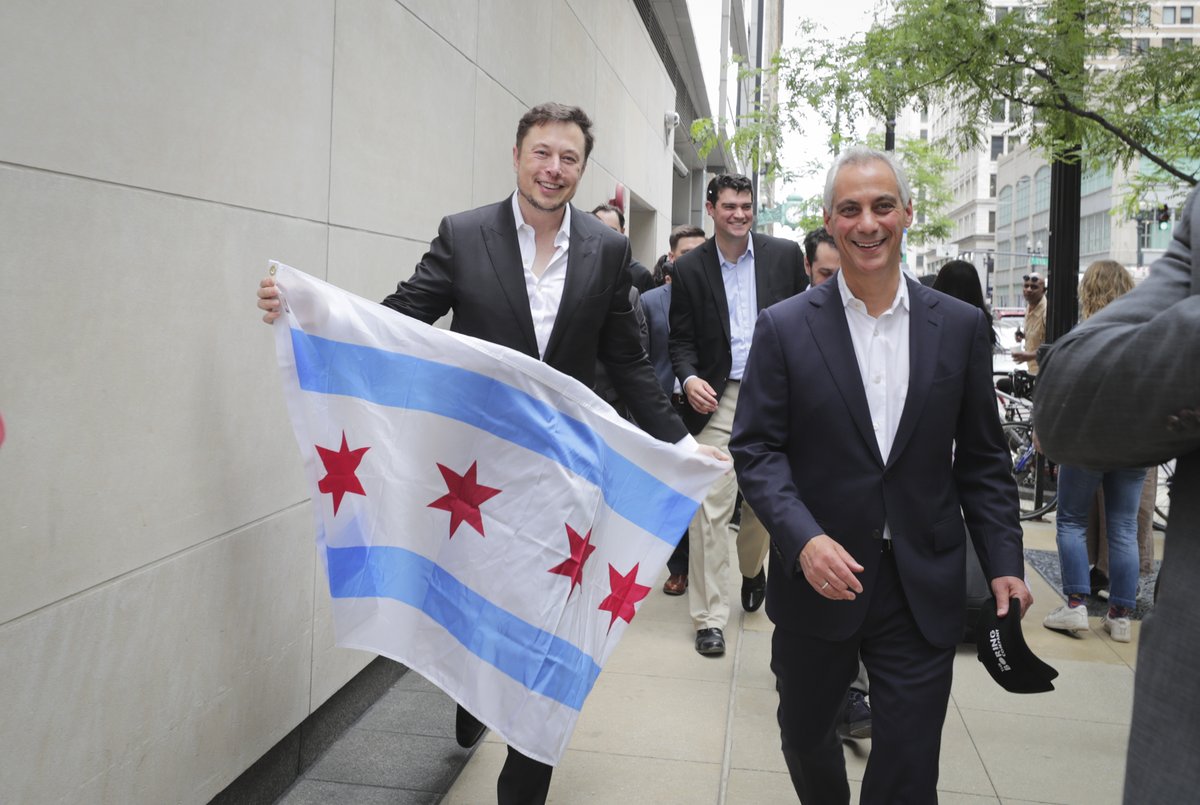 Musk holds a Chicago flag while walking with Mayor Emanuel, at right. Source: ChicagosMayorWith questions surrounding the technology, financing and social influence of the project, it is reasonable to wonder why Chicago went with The Boring Co. and the Chicago Express Loop, as opposed to a conventional high-speed rail project that was also proposed, and also if the project is outright feasible.
Neither the Boring Co. nor the Chicago Department of Transportation responded to requests for comment. The city cited ongoing contract negotiations as the reason. Local news sources expect the contract to be wrapped up by May, the end of Mayor Rahm Emmanuel's current term.
The mayor acknowledged project criticism at the introductory press conference last June.
"Were there doubters when Chicago reversed the flow of the river? Were there doubters when Chicago said we're going to build the first skyscraper in America?" asked Mayor Rahm Emanuel rhetorically. "Yeah. Where are they today?"
"I do think there is a role for doubters," added Musk. "People should question things. It should not be taken as a given that things are going to work.
"I'd like to thank the mayor and the mayor's office and the city of Chicago for having the faith to bet on the Boring Company."
It is a wager the mayor was eager to take.
"[Elon] has done both Tesla and SpaceX," said the mayor. "He has a reputation, he's also putting that on the line here. We get the upside with no financial risk at all."