Elon Musk Reveals First Photo of Boring Company's Tunnel Under LA
Eric Olson | October 30, 2017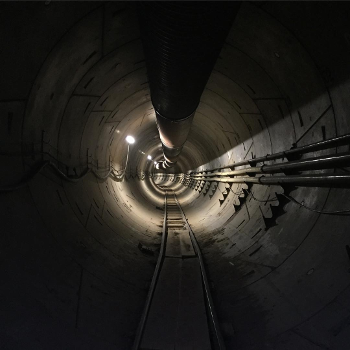 A section of the Boring Company's underground tunnel in Los Angeles. Source: Elon Musk
Elon Musk has revealed the first picture of a section of his Boring Company's underground tunnel in Los Angeles. The tunnel is intended to be part of an underground transportation network carrying cars and "people pods" on electric sleds at speeds up to 150 miles per hour. The first section is so far about 500 feet long. Musk says it will be extended to two miles in a few months and will eventually stretch parallel to the entire 405 north-south corridor from LAX to the 101.
The concept for the transportation network is centered around electric skates or sleds. A car pulls into a sled at street level. The sled is then lowered into the underground tunnel network where it travels along a track to transport the vehicle to its destination. The sled is then raised back up to the surface and the car drives away. Pods for people and bicycles would also be transported in the same manner.
The concept has an advantage over traditional subway systems in that the sleds use side tunnels to enter and exit the main artery, avoiding the need for pods to stop at every station like subway trains.
Building out the network to realize its full potential will require obtaining regulatory approval. That will be no easy feat, although Musk has mentioned promising talks with Los Angeles Mayor Eric Garcetti.