Microneedle patch for long-term contraceptive release
S. Himmelstein | January 15, 2019
Researchers from Georgia Institute of Technology and University of Michigan have turned to emerging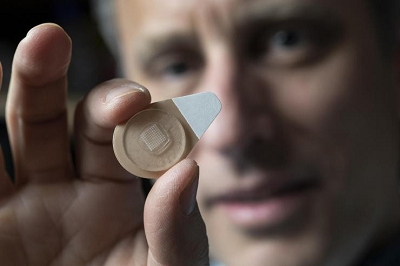 The microneedle contraceptive skin patch is designed to be self-administered by women for long-acting contraception. Source: Christopher Moore, Georgia Institute of Technologymicroneedle technology to devise a long-acting, effective contraceptive that can be self-administered by users in developing areas. Such devices have been developed for various medical applications, including painless administration of vaccines and for delivery of weight loss-inducing therapies.
A microneedle patch was designed with rapidly separable, biodegradable ,polymer-based needles for the continuous release of levonorgestrel, a contraceptive hormone. Bubble structures were engineered into the design as a structural weakness: bubbles between each microneedle and the patch backing allow the microneedles to efficiently penetrate skin under compression, and to snap off under shear within five seconds after patch administration.
The contraceptive patches tested on the animals contained 100 microneedles. To deliver an adequate dose of levonorgestrel to a human will require a larger patch, which has been fabricated but not yet tested. The researchers would like to develop a patch that could be applied once every six months.
The microneedle patch was well tolerated in rat models and left little visible evidence of use. Plasma concentrations of the hormone were observed to remain above the human therapeutic level for one month.