Poll Shows Voter Support for Scientific Research
Tony Pallone | December 14, 2018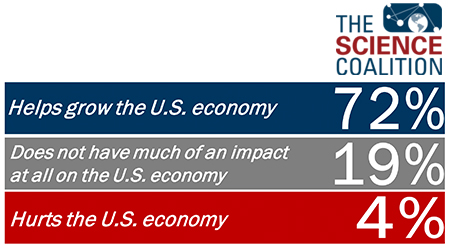 Excerpt from results of a poll of registered voters conducted Nov. 10-14, 2018. Source: The Science Coalition/Public Opinion StrategiesA new poll conducted by The Science Coalition (TSC) indicates that eight in 10 Americans support federal government investment in scientific research.
Eight hundred registered voters were surveyed shortly after the November 2018 election for the poll, with quotas set by specific demographics to ensure a representative sample. The results cut across political affiliations, with 94% of voters stating that they believe it is important for the United States to be the global leader in scientific research and technology. Additionally, 72% said that they believed scientific research helps to grow the U.S. economy.
Anna Quider, president of The Science Coalition, noted that in 2017 Congress funded fundamental research at the highest level since the start of the new millennium. "It is imperative to keep up that momentum," she added, "and the overwhelming majority of Americans agree."
It should be noted, however, that scientific research was not one of the top funding priorities selected by the majority of voters. When asked to select the two most important areas for investment from a list of nine items, public education was a strong first choice. This was followed by national defense; roads, bridges and other infrastructure; and programs for low-income families, all of which scored in the double-digit percentiles. Scientific research had a support level similar to energy and agriculture, while unemployment benefits and transportation came in last.
A top choice for the contribution that science makes to the economy, society and individual Americans was its impact on medicine, health and disease. The Science Coalition has put together a memo outlining all of its key findings from the poll.
The Science Coalition is a nonprofit, nonpartisan organization of more than 50 of the nation's leading public and private research universities; its aim is to sustain federal government's investment in basic scientific research as a means to stimulate the economy, spur innovation and drive America's global competitiveness.