Closed-Loop Control Increases Efficiency, Soft Landing of Solenoid Valve Actuators
Shawn Martin | October 29, 2018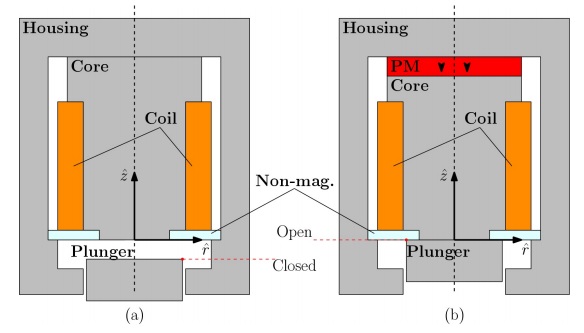 (a) classical reluctance actuator (b) permanent magnet-biased reluctance actuator | Source: van Dam, J. R. M., Gysen, B. L. J., Dhaens, M., & Lomonova, E. A. The observed open-loop control scheme of two solenoid valve actuators has previously shown high energy consumption and no soft-landing. Researchers at the Eindhoven University of Technology simulated the effects of using cascaded closed-loop control with Simulink and transient FE software to analyze potential energy consumption reductions and soft-landing ability.
The two reluctance actuators observed were a classical reluctance actuator with a stationary coil and a moving plunger and a reluctance actuator with a permanent magnet atop the core. The actuators had a height of 16 mm, a diameter of 13 mm and a stroke of 0.25 mm.
In both instances, eddy currents had dampened plunger speed when operated by an open-loop control scheme. In addition, the induced electromagnetic force increased rapidly, resulting in a quickly moving plunger and unnecessarily high applied forces.
Observations of the reluctance actuator with a permanent magnet atop the core allowed for zero-power latching, providing efficiency gains whenever the solenoid was held in the closed position. The dampened plunger speed and rapid increases in electromagnetic forces were still seen as highly inefficient, propelling researchers to investigate the effects of cascaded closed-loop control.
A fluid-control solenoid valve with an electromagnetic reluctance actuator and a near constant-force spring has several use cases -- as an electromagnetic brake in aerospace applications, to perform fast-sorting tasks in the manufacturing industry, as a fluid control valve in petrochemical processes and to achieve variable valve timing in camless engines in the automotive industry. In each use case fast switching, minimal energy consumption and soft landing are preferred. In addition, the desired improvements would help minimize impact velocity, extend life expectancy and reduce audible noise, vibration and harshness.