How do thermal actuators work?
Eric Olson | June 11, 2019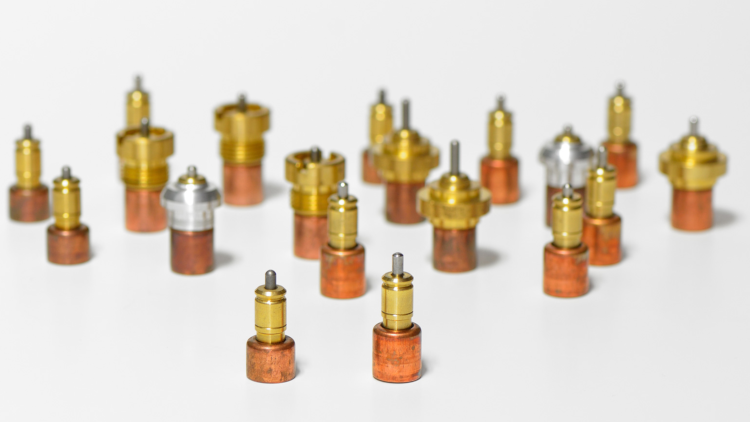 Thermal actuators. Source: Keystone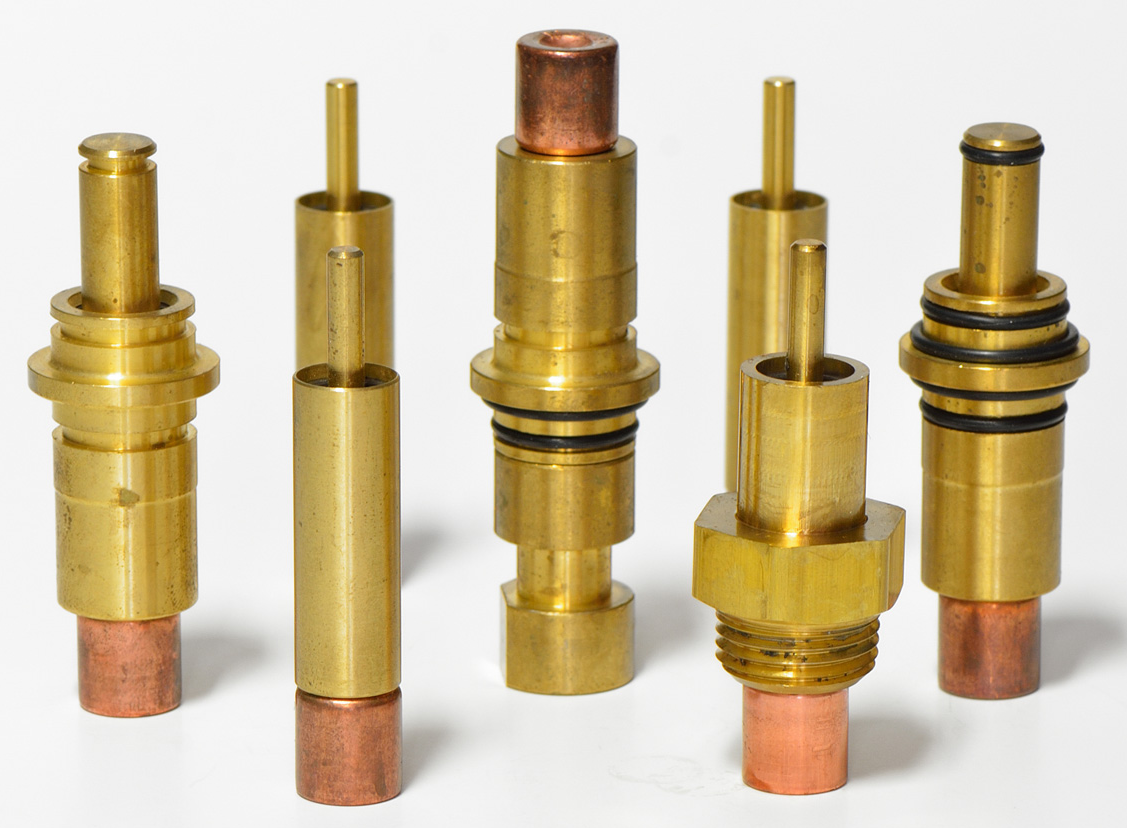 Thermal actuators. Source: KeystoneThermal actuators produce a linear movement – or stroke – as a result of the expansion and contraction of a thermally sensitive material within them.
Applications
Integrating temperature sensing and actuation into a single device, thermal actuators are commonly used in applications such as temperature control, fluid mixing and diverting, freeze protection and high-temperature shutoffs.
Thermal actuators are the key operative components inside devices ranging from thermostats to valve products like thermal bypass valves, thermostatic mixing valves, tempering valves and thermostatic balancing valves.
A thermostatic actuator acts as a valve actuator to open or close a valve based on a temperature setpoint to, for example, continuously regulate the flow of hot water to a radiator heating a room.
A thermal actuator combined with a source of heat such as a positive temperature coefficient thermistor is known as a wax motor, commonly used in appliances such as washing machines or dishwashers to engage locks or operate dispenser latches.
Operating principle
Thermal actuators convert thermal energy into kinetic energy, or motion. A typical thermostatic actuator consists of a temperature-sensing material sealed within a housing by a diaphragm that pushes against a plug to move a piston within a guide.
Thermal actuators produce a movement – or stroke – as thermally sensitive material within them expands and contracts due to changing temperature. Source: ThermOmegaTechThe key element of a thermal actuator is the temperature-sensing material. It is this material that expands and contracts based on the temperature of the device, causing the piston to move. This material could be a liquid, gas, wax-like substance or other material that changes volume based on temperature.
In the case of wax materials, the substance is carefully engineered to undergo a phase change within a specific temperature range. When the temperature rises past the melting point, the wax changes phase from solid to liquid, expanding in volume significantly. This expansion pushes against a diaphragm containing the wax, which forces a piston to move within a guide.
When the temperature falls back below the melting point, the wax changes phase back to solid from liquid. This results in a contracting volume of material which relaxes pressure on the diaphragm. A spring causes the piston to retract back within the guide to its original position.
Typical stroke ranges for wax-based thermal actuators range from 0.05 in to 0.5 in , generating pushing forces from 5 lb. to 75 lb. within temperatures ranging from -150° F to 300° F.
Advantages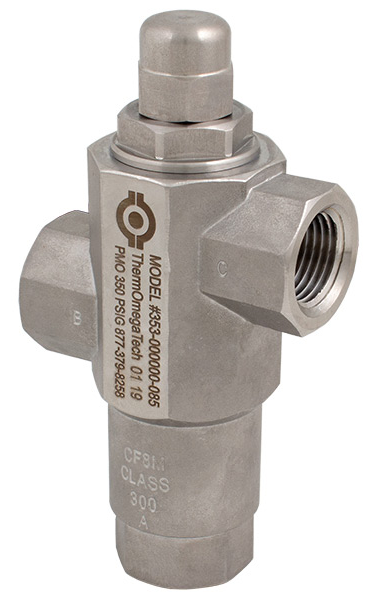 A thermostatic mixing/diverting temperature control valve is an all-in-one fluid proportioning solution that automatically mixes or diverts fluids based on temperature with no external components needed. Source: ThermOmegaTechIn many applications, thermal actuators have a number of advantages compared to traditional solutions.
For instance, the thermal actuator inside of a thermostatic or thermal valve enables it to operate as a single device that integrates temperature sensing, actuating and fluid control functions. Compared to a conventional setup that employs a solenoid valve and electronic sensing system, a thermal valve eliminates a number of external components.
The thermal actuator removes the need for the solenoid, temperature sensor such as a thermocouple, electronic instrumentation and control circuitry, and power supply such as a battery or DC power supply. With fewer components, the thermal valve is easier and cheaper to install. The overall design complexity and total cost of the solution are reduced.
Since the thermal valve does not require a supply of electricity, the device is immune to power failures and dangerous events like short circuits. Reliability and safety are thus improved over a traditional setup.
Thermal actuators are compact units with a high ratio of power to size and weight. They do not require periodic calibration and offer safe, reliable operation in hazardous or extreme applications.
Disadvantages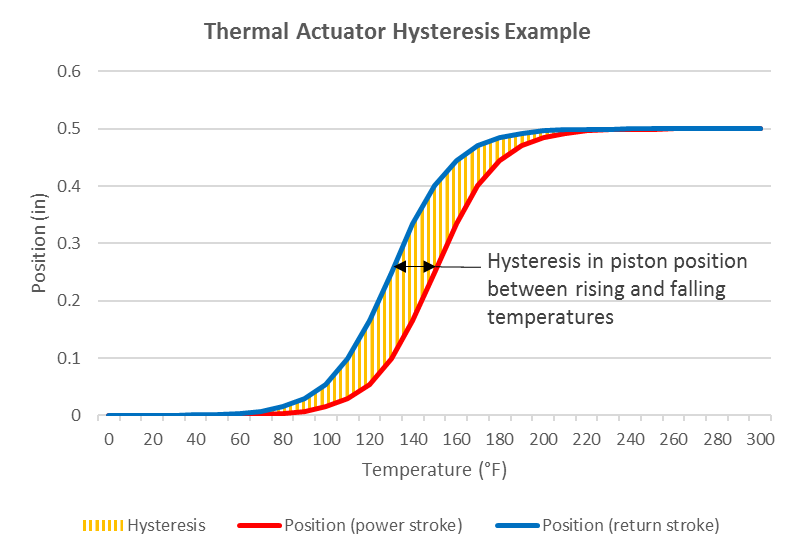 Most thermal actuators exhibit hysteresis – a lag between piston travel with rising and falling temperatures. (Click image to enlarge.)A primary shortcoming of thermal actuators is a hysteresis – or lag – between piston travel with rising temperatures compared to piston travel with falling temperatures.
As temperatures rise, the motion-producing temperature sensing material will expand to move the actuator piston along its guide. This power stroke occurs as a specific function of temperature versus position. With falling temperatures, however, the temperature sensing material will contract according to a slightly different function of temperature versus position that lags behind the original function. This causes piston retraction in the return stroke to occur at slightly lower temperatures than piston advance in the power stroke.
The consequence of this hysteresis is that the actuator will not be in exactly the same position given the same temperature for rising and falling temperature conditions. In other words, even if the temperature is exactly identical, there will be a slight difference between actuator positions during the power stroke and return stroke depending on if the device is warming up or cooling off.
Application example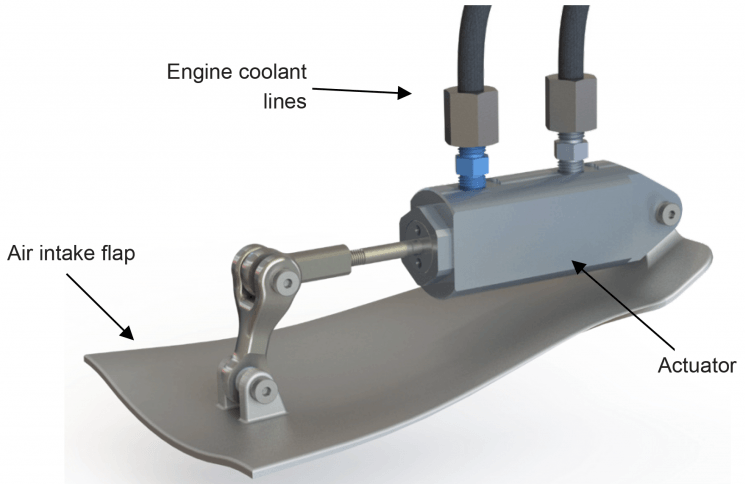 Source: ThermOmegaTech. (Click image to enlarge.)
A custom thermal actuator modulates the jet engine coolant temperature in an unmanned aerial vehicle. As engine coolant temperature increases and decreases within a specified range, the actuator opens and closes an air intake flap on the aircraft. Thus, rising coolant temperature triggers the flap to open increasingly wide, allowing more airflow to cool the fluid down.
Discover more on Engineering360
Find tempering valves and thermally actuated valves by specification or browse a directory of suppliers.
Learn about other types of valve actuators, and find suppliers for electric, hydraulic and pneumatic valve actuators.