Durable Catalyst Developed for Hydrogen Fuel Cells
S. Himmelstein | October 17, 2018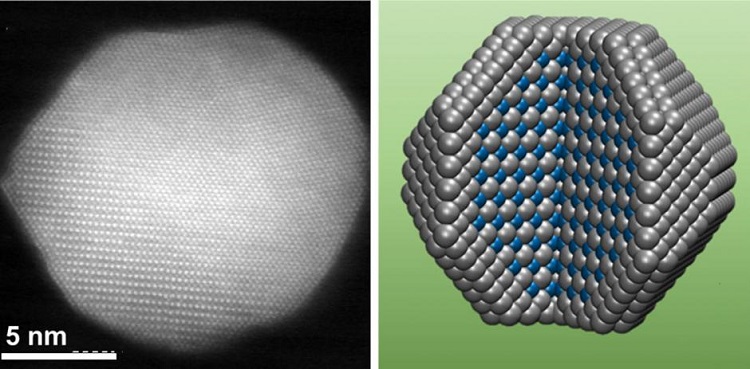 The catalyst combines an outer shell of platinum atoms (grey spheres in the rendering on the right) with ordered layers of platinum and cobalt atoms (blue spheres) in its core. The ordered layers help to tighten the shell and protect the cobalt, which makes that catalyst more reactive and durable. Source: Sun Lab/Brown University
New research shows that the high cost of platinum catalysts is a deterrent to the greater proliferation of fuel cell technology -- less expensive metal alloy options are available, but these have a short service life under fuel cell operating conditions.
A durable catalyst with a reduced platinum concentration was developed by alloying the precious metal with cobalt in nanoparticles. A pure platinum outer shell encases a core composed of alternating platinum and cobalt atom layers. The Brown University researchers explained that this structure maintains a tight platinum lattice in the external shell, which serves to boost platinum reactivity and shield the cobalt atoms from degradation.
Laboratory tests demonstrated that the performance of the new catalyst was superior to that of a more conventional platinum alloy catalyst, and maintained activity after 30,000 voltage cycles. Subsequent trials in the harsher environment of an actual fuel cell showed that the catalyst beats targets set by the U.S. Department of Energy (DOE) for both initial activity and long-term durability. The agency has challenged researchers to develop catalysts with an initial activity of 0.44 amps per milligram of platinum by 2020, and an activity of at least 0.26 amps per milligram after 30,000 voltage cycles -- this translates into five years of use in a fuel cell vehicle. The new catalyst was documented to have an initial activity of 0.56 amps per milligram and an activity of 0.45 amps after 30,000 cycles.