Cheaper Fuel Cells Take a Cue from Ancient Egypt
S. Himmelstein | December 23, 2017
Ancient Egyptian technology is being tapped by Johns Hopkins University chemical engineers to render fuel cells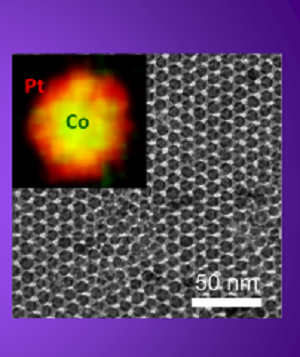 The platinum nanoparticles coating a core of cobalt led to superior results in tests conducted by the research team. Source: Johns Hopkins University less expensive and more powerful.
About 3,300 years ago, Egyptian artisans would plate copper and other cheap metals with a thin layer of gold to design jewelry and masks. The researchers adapted this gilding method by applying a thin coating of pricey platinum just 1 nm thick to a core of inexpensive cobalt. The resulting fuel cell design consumes less platinum catalyst and could improve the economic attractiveness and practicality of electric vehicles.
Previous efforts to plate precious metals on non-precious materials were undermined by galvanic replacement reactions — oxidation of the non-precious metal. These reactions are now suppressed by introducing carbon monoxide, which strongly binds to cobalt and protects it from oxidation. In addition to reducing precious metal requirements, the cobalt-platinum nanoparticles performed almost 10 times better than platinum alone. The enhanced catalytic activity is attributed to both the maximized exposure of platinum atoms on the surface and to interactions between the two metals.
The researchers explain that the close contact between cobalt and platinum induces compressive strain, which shortens the distance between platinum atoms and enhanced surface catalytic activity.
Because platinum and other rare metals play key roles in many industrial applications, the implications of the research extend beyond fuel cells. Platinum catalyzes essential reactions in activities ranging from petroleum processing and petrochemical synthesis to emission control in combustion vehicles, as well as being used in fuel cells.
The team is now extending their technique to other precious metals and non-precious substrates.