More graphene means less platinum in fuel cells
S. Himmelstein | September 23, 2019
The use of platinum catalysts improves fuel cell performance and durability, but adds to the cost of these power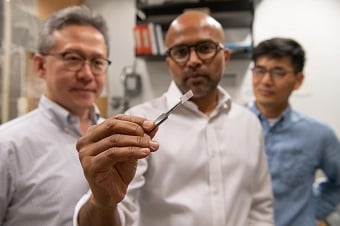 Researchers examine a piece of platinum-graphene catalyst. Source: Allison Carter/Georgia Institute of Technologysystems. Georgia Institute of Technology researchers demonstrated that marrying ultrathin platinum layers to graphene sustainably reduces the amount of platinum catalysts.
Platinum layers one to three atoms thick and graphene monolayers were synthesized by room temperature electrochemical methods. Bilayer platinum structures had superior dissociation energy values, which are indicators of the energy required to dislodge a platinum atom, relative to the nanoparticle platinum conventionally used in catalytic systems.
The platinum-graphene arrangement maximizes the surface area for catalytic activity while also reducing the amount of the metal required. Exposing the graphene layer as the catalytically active surface serves to protect the platinum layer and potentially extend catalyst service life.