Watch: Collaborative Robot Rings the NYSE Bell
Tony Pallone | October 17, 2018
One of the most visible exhibitors at the International Manufacturing Technology Show (
IMTS
), held last month in Chicago, was
Universal Robots
. In addition to its eye-catching video display comprised of eight monitors each held by a moving robotic arm, the company's iconic "cobots" — collaborative robots — were present at more than 20 other booths hosted by other companies and scattered throughout the show.
Earlier this week, one of UR's cobots has taken a bold step onto Wall Street: Using a two-fingered gripper from Robotiq, the UR5e robot arm became the first device of its kind to ring the closing bell at the New York Stock Exchange.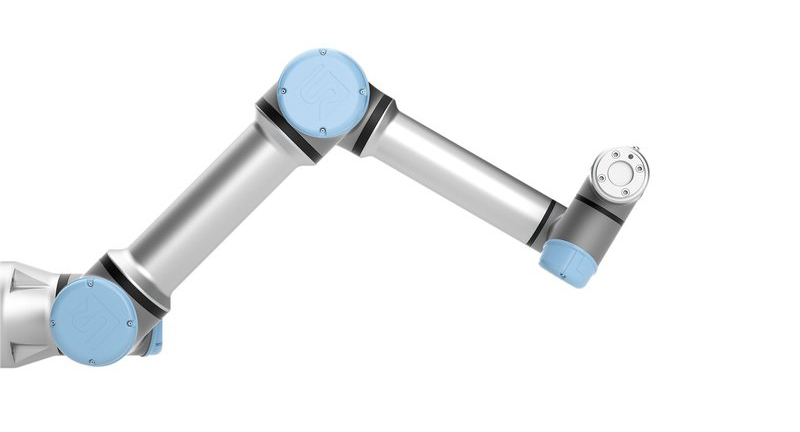 The UR5e. Source: Universal RobotsThe idea behind collaborative robots is simple: These are devices designed to easily interact with human co-workers, not requiring shielded work cells. After risk assessment, according to the company, 80 percent of its robots worldwide are able to operate without safety guarding. Universal Robots pioneered the market by selling the first commercially viable cobot in 2008. It announced the sale of its 25,000th cobot in the fall of 2018.
The ringing celebrated the five-year anniversary of ROBO Global, an investment index that brings together robotics, automation and AI. Universal Robots parent company Teradyne has been a key growth driver for the index, according to Travis Briggs, CEO of ROBO Global U.S.
Universal Robots is based in Odense, Denmark, with subsidiaries and regional offices located in 14 countries around the world. For a video focused on recent news from UR and its presence at IMTS, click here.