Watch a Passive Solar-Powered Approach to Surface De-icing
S. Himmelstein | September 02, 2018
Prevention of ice buildup on aircraft, power lines and other structures typically requires energy-intensive heating systems or environmentally damaging chemical sprays, such as ethylene glycol. A passive solar-powered approach to surface de-icing developed at MIT offers an efficient alternative.
A three-layered material applied or sprayed onto the surfaces to be treated collects solar radiation and converts it to heat. The material disseminates the heat so that the melting is not just confined to the areas exposed directly to sunlight. No other power sources are needed, and it can even perform de-icing service at night, using artificial lighting.
An absorber forms the top layer, trapping incoming sunlight and converting it to heat. This layer absorbs 95 pecent of incident sunlight and loses only 3 percent to re-radiation. However, it only works in areas directly in sunlight, and much of the heat would be lost back into the substrate material without contributing to de-icing.
A 400 micrometer-thick coating of aluminum was added as a spreader layer to overcome this issue. When heated by the overlying absorber layer, the aluminum efficiently spreads that heat out laterally to cover the entire surface. A foam insulation layer at the bottom keeps heat from being wasted downward and maintains it where needed, at the surface.
The three layers of the photothermal trap, assembled with inexpensive, commercially available material, are bonded together, and can then be bonded to the surface that needs protection. For some applications, the materials could instead be sprayed onto a surface, one layer at a time.
The research is published in Science Advances.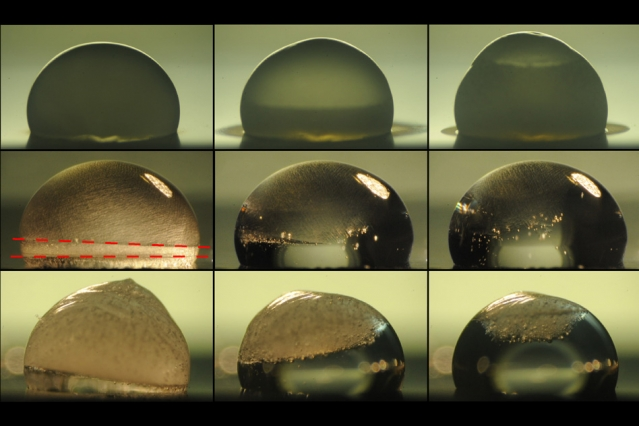 Images of a droplet on a surface show the process of freezing (top row), during which condensation temporarily forms on the outside of the droplet as it freezes. The next two rows show the droplet thawing out on a surface coated with the new layered material. In the middle row, the droplet is heated by the coating immediately upon freezing, and the dashed lines show where the freezing at top is just catching up with the thawing from below. The bottom row shows a slower thawing process. Source: The Varanasi Research Group, MIT