Electric Propulsion Capabilities Demonstrated for Future NASA Missions
Engineering360 News Desk | September 01, 2018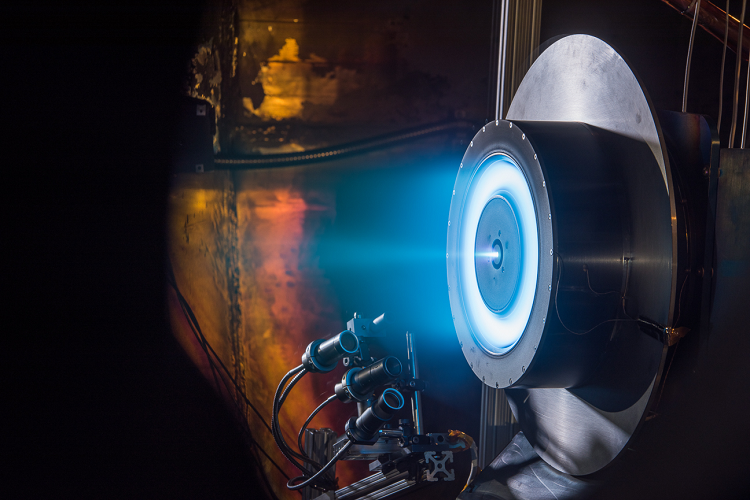 A prototype 13 kW Hall thruster being tested at NASA's Glenn Research Center in 2016. Source: NASA
An early systems integration test was performed by Aerojet Rocketdyne for NASA's Advanced Electric Propulsion System (AEPS) program, which includes technology that could be used on NASA's proposed lunar-orbiting outpost in the early 2020s.
The company is under contract with NASA to develop and qualify a 13 kW Hall thruster string. The recent test focused on the power elements of the AEPS Hall thruster string, including the discharge supply unit and the power processing unit, to demonstrate the system's ability to convert power at a high efficiency level and produce minimal waste heat.
Hall thrusters, a type of ion thruster, trap electrons in a magnetic field and use them to ionize the onboard propellant (typically xenon), accelerating them outward to produce thrust, according to NASA. These engines use 10 times less propellant than traditional chemical rockets.
The test, conducted in a thermal vacuum chamber at NASA's Glenn Research Center in Cleveland, combined a breadboard AEPS power processing unit and discharge supply unit with a NASA development thruster.
The next step will be to finalize and verify the design before the critical design review, which would clear the system for production. The thruster could be used on the power and propulsion element of NASA's proposed lunar-orbiting Gateway outpost. This element will demonstrate 50 kW-class solar electric propulsion to support exploration on and near the Moon and beyond, including Mars.