Cryogenic Fuel Systems and Exploration Vehicles Gain NASA Investment
Peter Brown | August 08, 2018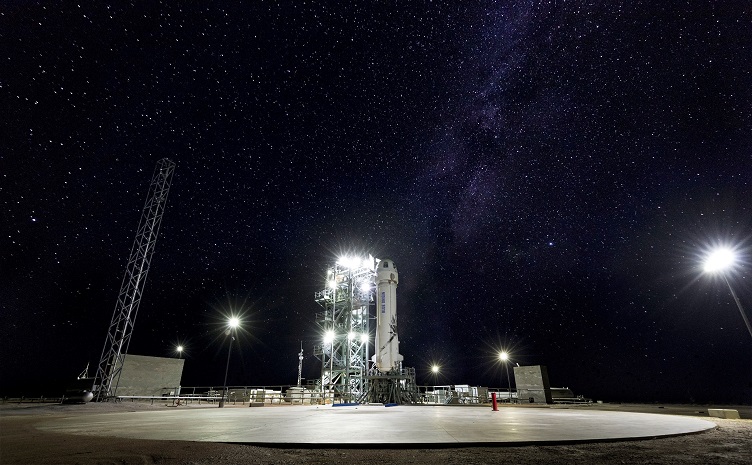 Blue Origin's New Shepard rocket that lifted off in July carrying five NASA-supported technologies to flight test in space. Source: Blue Origin
NASA has announced the six U.S. companies that have been awarded $44 million to advance technologies involved in the commercial space economy and future NASA missions.
As part of the third competitive Tipping Point contest, 10 technologies were chosen from these six companies which include budding ground or flight technologies that are on the verge of becoming viable. The investment will improve the ability to bring these technologies to market.
NASA said these technologies are aimed to support current and future science and human exploration missions, and will also help develop the growing commercial space industry.
Washington state-based Blue Origin was chosen for two projects. The first is a cryogenic fluid management propulsion system for a lunar lander. The project will test the integrated propulsion system as well as a separate experiment on Blue Origin's New Shepard suborbital vehicle. The second project awarded to the company includes advancing sensor suites to enable landing anywhere on the lunar surface. The project will integrate terrain relative navigation (TRN), navigation doppler lidar and altimetry sensors, with testing performed at 100 km altitude on board Blue Origin's New Shepard vertical-takeoff, vertical-landing (VTVL) suborbital vehicle. Blue Origin was award a total of $13 million in project funding.
Space Systems/Loral LLC (SSL), based in Palo Alto, California, was also awarded two projects, the first of which is an advanced satellite servicing and in-space platform to replenish and extend the life of orbitals. The project will involve an incremental addition of xenon transfer to existing robotic refueling payload for new refueling opportunities that can reliably be accomplished in space. The second project involves electric population capabilities by developing a selectable dual-mode power processing unit (PPU) capable of providing 300 V or 600 V to a 6 kW Hall thruster. The goal is to provide faster, more efficient, propulsion capabilities for future NASA missions. SSL was award $4 million for both projects.
United Launch Alliance (ULA), based in Centennial, Colorado, garnered three projects in the competition. The first project involves an integrated vehicle fluids (IVF) system that supports extended-duration, cryogenic, upper stage operations for lunar landers. The second project involves cryogenic fluid management (CFM) that seeks to prove that very low cryogenic fuel boil off is achievable and can support long-duration missions. ULA will test this project on the existing space launch vehicle Centaur Cryote-3 tank. The final project involves mid-air retrieval of objects up to 8,000 lb, increasing current capabilities by a factor of four. This effort will be paired with NASA's Low-Earth Orbit Flight Test on an Inflatable Decelerator (LOFTID) vehicle and will use an ocean-going ship capable of transporting a helicopter to the recovery zone and conclude with the recovery of the LOFTID re-entry vehicle. ULA was awarded $13.9 million for the three projects.
Frontier Aerospace Corp.'s Deep Space Engine (DSE) got a NASA award of $1.9 million. The DSE engine uses propellant that has a low freezing point, providing benefits for exploration landers and deep space missions by lowering system weight and required power.
Paragon Space Development Corp. was awarded $1.6 million for its Cyrogenic Encapsulating Launch Shroud and Insulated Upper Stage (CELSIUS) system that can be installed on the space launch vehicle surface of the cryogenic upper stage tank for insulation capabilities and protection from meteoroids and debris.
Finally, Pittsburgh-based Astrobotic Technology Inc. was awarded $10 million for its stand-alone TRN sensor suite, a low-mass, low-power, passive-optical suite designed to deliver robotic landers to planetary surfaces. NASA said this will help improve the performance of lunar and planetary landing missions.