Report: Nuclear Electricity Output Continues Expanding Worldwide
S. Himmelstein | August 17, 2018
According to the World Nuclear Performance Report 2018 issued by the World Nuclear Association, global nuclear electricity output was 2,506 TWh in 2017. This increase of 29 TWh compared to 2016 marks the fifth successive year that nuclear output has increased, with generation 160 TWh higher than in 2012.
The global nuclear capacity of the 448 operable reactors at the end of 2017 stood at 392 GWe, up 2 GWe on the end of 2016 total. Four new reactors were connected to the grid with a combined capacity of 3,373 MWe. The total number of reactors under construction fell by two to 59 over the course of 2017. Five reactors — two of which had not generated electricity for some years — were shut down, with a combined capacity of 3,025 MWe.
Nuclear power plant capacity factor was 81 percent, maintaining the high availability of around 80 percent that has been maintained since 2000, up from the 60 percent average capacity factor at the start of the 1980s.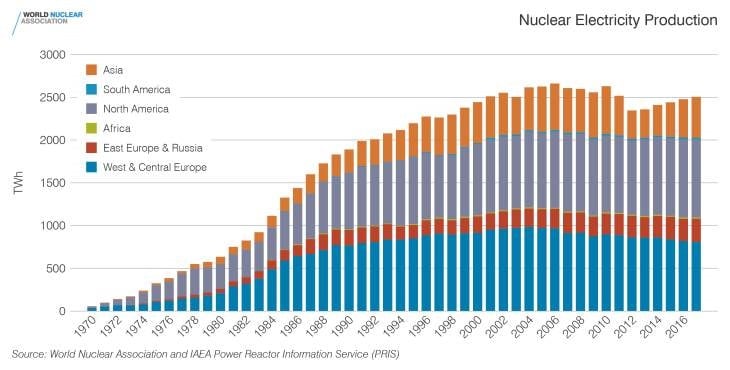 Source: World Nuclear Association and IAEA Power Reactor Information Service