Report: The state of the nuclear power industry
S. Himmelstein | September 14, 2020
Nuclear power output reached 2,657 TWh in 2019, enough to meet more than 10% of the world's electricity demand, according to a new report from the World Nuclear Association. Growth was pronounced in Asia, where nuclear generation rose by 17%. China has more than tripled its nuclear generation from 105 TWh in 2013 to 330 TWh in 2019, and is now responsible for more than half of nuclear generation in Asia.
While the performance of the world's operating reactors continued to improve, the pace of new nuclear start-ups needs to increase to meet the nuclear industry's Harmony program goal. Nuclear power must provide 25% of electricity before 2050 as part of a clean and reliable low-carbon mix. Achieving this means nuclear generation must triple globally by 2050. The global initiative seeks to develop a framework for action by working with key stakeholders so that barriers to growth can be removed.
Six reactors started up in 2019, including two large pressurized water reactors in China, one in Russia and one in South Korea. Two small reactors started up on the world's first purpose-built floating nuclear plants on the northeast Russian coast. These six units have a combined capacity of 5.2 GW, short of the average annual objective for 2016-2020 of 10 GW.
The average global capacity factor for reactors generating electricity in 2019 rose from 79.8% to 82.5% and more than two-thirds of the world's reactors achieved a capacity factor greater than 80%. This maintains the improvement documented since the 1970s, when fewer than 30% achieved this level of performance.
Five reactors reached 50 years of operation in 2019. However, no age-related decline in capacity factor is evident in nuclear reactor performance, with average capacity factors increasing with age for reactors between 40 and 50 years old.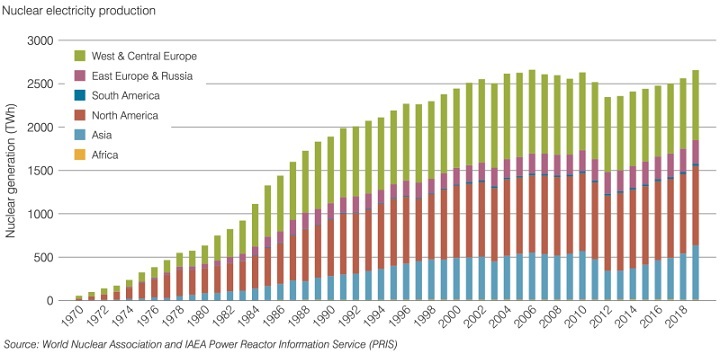 Nuclear reactors generated a total 2657 TWh of electricity in 2019, up from 2563 TWh in 2018, and second only to the 2661 TWh generated in 2006. Source: World Nuclear Association and IAEA Power Reactor Information Service (PRIS)