Record Power Level Posted at the Spallation Neutron Source
S. Himmelstein | August 13, 2018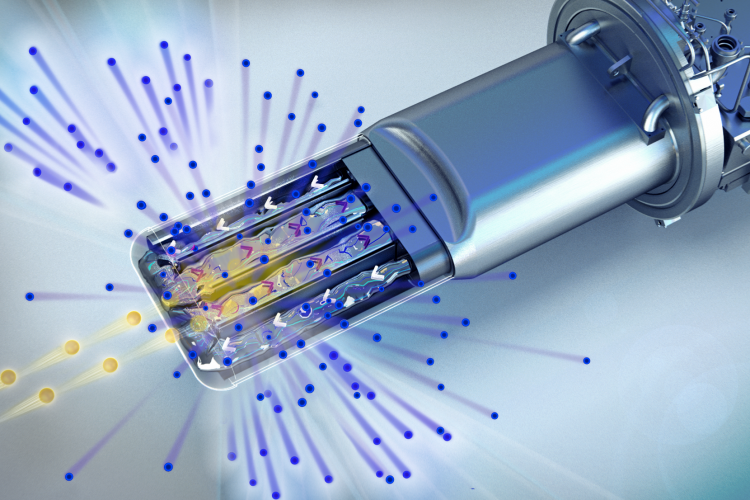 Protons (pink) strike the target vessel and pass into the liquid mercury inside. The protons are absorbed, creating neutrons (blue) that are then sent through moderators and beam tubes to research instruments to study the fundamental properties of materials. Source: Jill Hemman, Oak Ridge National Laboratory, U.S. Department of Energy
A complete neutron production run cycle at 1.3 MW has been achieved at the Spallation Neutron Source (SNS), the world's most powerful pulsed accelerator-based neutron scattering facility, at the U.S. Department of Energy's Oak Ridge National Laboratory. This record power level attained with a 94 percent accelerator beam availability was enabled by a more robust stainless-steel target module and a series of improvements in the accelerator systems that allowed higher proton current and energy. The system has reached power levels as high as 1.4 MW, but this is the first time it has sustained levels as high as 1.3 MW over a predicted timeframe.
The SNS accelerates protons at nearly 90 percent the speed of light down a linear accelerator and into a ring that compresses the proton pulse by a factor of 1,000. The protons collide with a liquid mercury target, generating a "spall" of neutrons that flow to powerful instruments where scientists measure the neutrons' interactions with a variety of materials.
The lifetime of SNS targets has been extended by studying the performance of previous targets and making adjustments such as the injection of small bubbles of helium gas into the target vessel's liquid mercury flow. This enhancement reduces the impact stresses caused by the proton beam.
The research conducted at SNS has contributed to advances in electronic devices, improved drug delivery and stronger building materials for transportation infrastructure.
The next neutron production cycle will be operated at 1.4 MW.