Why Are Certain Metals Rare or Precious?
Gary Kardys | April 05, 2018
Rare earth elements and precious metals have desirable engineering properties or are useful alloying additives, but their availability impacts material cost and restricts usage. How did these elements come into existence? Why are some elements more abundant than others?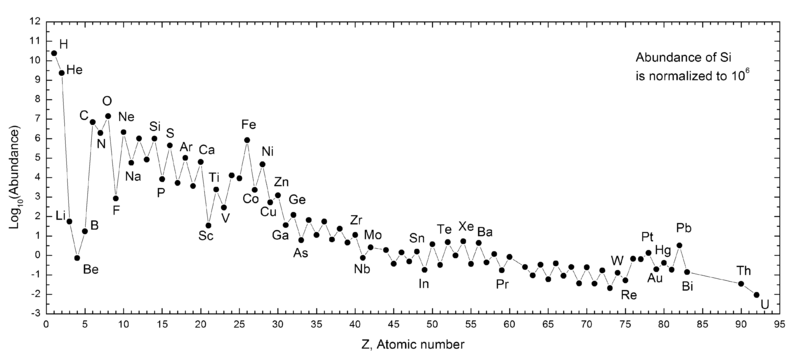 Figure 1. Abundances of elements in the universe versus atomic number. Source: Orionus / CC BY-SA 3.0Understanding the origin and abundance of elements is important to metallurgists and materials engineers because these constituents often impact the cost, availability and viability of existing and new alloys and ceramics. For instance, neodymium is critical in making powerful magnets and dysprosium additions retain magnetic properties at higher temperatures. Yttrium is a critical element in making tough yttria-stabilized zirconia (YSZ) ceramics. Tellurium additions to copper and selenium additions to stainless steel enhance free machining characteristics. Palladium and platinum are an essential for fuel cells, catalytic converters, spark plugs and glass fiber manufacturing. Materials scientists spend considerable time minimizing the amounts of high-cost, low-abundance constituents or finding alternatives to replace these elements.

Origin of Elements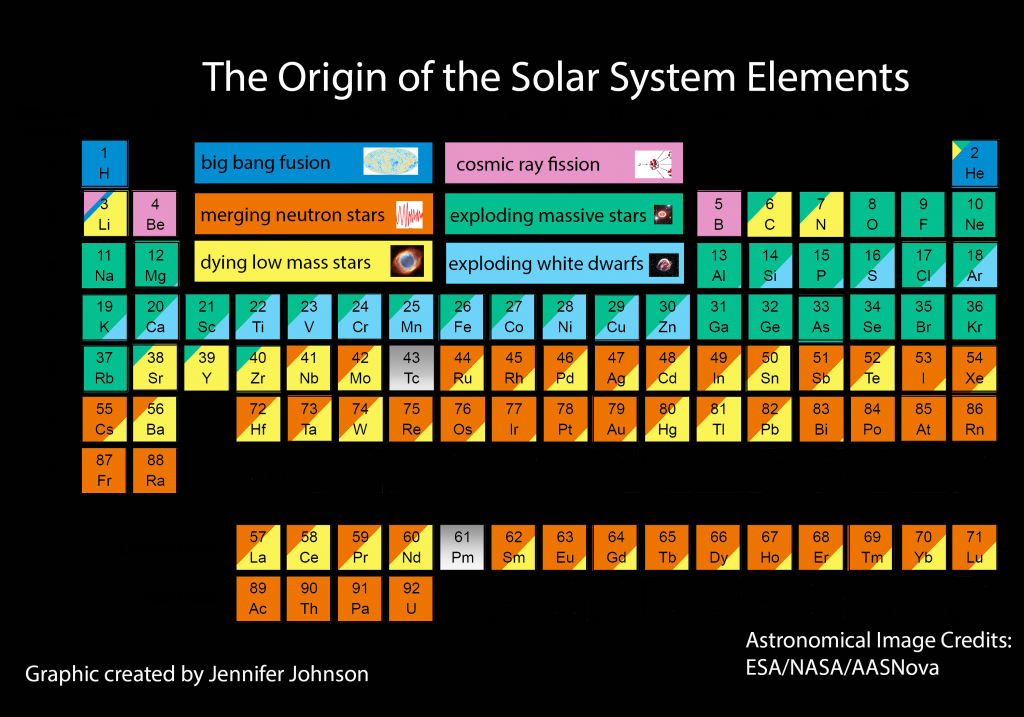 Figure 2. Nucleosynthesis periodic table showing the origins of the dominant isotopes. Source: Iranga Samarasingha & Inese IvansGrasping the birth of elements is the first step in understanding their availability in the earth's crust. Anna Frebel, a German astronomer and physics professor at MIT has made several great mini-lectures explaining the cosmic origin of elements such as her "Formation of the Heaviest Elements" lecture video above. Astronomers, astrophysicists or "stellar archaeologists" like Professor Frebel hunt for ancient stars made from big bang hydrogen and spectroscopically analyze their chemical compositions to deduce the genesis of the elements. Studying ancient, metal-poor stars have cleaner signatures and provide insight into stellar evolution, element generation, and the early universe.
In 10 seconds to 20 minutes after the Big Bang, nucleosynthesis created hydrogen, helium and small unstable isotopes of lithium and beryllium. Lithium and beryllium are less abundant in the cosmos and the earth's crust because these elements were poorly synthesized or produced as isotopes, which decayed into other elements shortly after forming. Some of these rar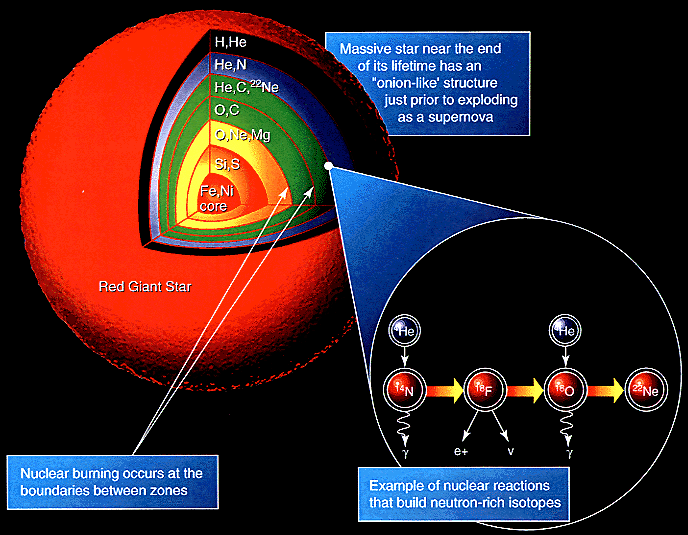 Figure 3. Stellar nucleosynthesis produces metal elements up to iron by "burning" fusing lighter elements.. Production of elements heavier or with atomic number greater than iron consumes energy.er light elements (Be, Li, B) may have been consumed in later fusion nucleosynthesis reactions with light elements to generate denser elements. Most of the universe's lithium, beryllium, and boron was generated through cosmic ray spallation (proton bombardment). Beryllium, in particular, has very low abundance because only one stable Be isotope exists. Li and B have both have two stable isotopes.
Newly formed stars initially fused hydrogen and helium to produce oxygen and helium. After these stars run out of hydrogen and helium to fuse, a death star process begins resulting in a variety of nucleosynthesis processes (hydrostatic, neutron capture and explosive), which generate the heavier elements. Different stellar masses result in the formation of different star types, stellar life cycles and element generation processes such as the neutron capture (rapid r-process or slow s-process), triple-alpha, cosmic ray spallation, and nucleosynthesis. The "Main Nucleosynthetic Origins of the Dominant Isotopes" periodic tables (table 1, table 2, table 3 and table 4) indicate the stellar and nuclear processes as well as the element "burned" or fused to produce an element. Stars produce elements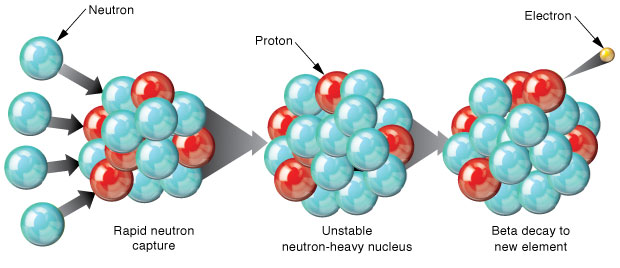 Figure 4. The nucleosynthesis R-process produces heavy elements with Z >26 from lighter seed nuclei. Unstable isotopes produced beta decay to new stable elements. Source: Greg Brennecka LLNLas they live, die, collide and explode. The ejected star matter recombines to form planets and new stars. Elements up to and including iron are made in the hot cores of short-lived massive stars. The slow neutron capture or s-process can produce elements up to lead over a 10,000-year time frame.
Astrophysicists have long believed that many of the dense elements heavier than iron (gold, platinum, mercury, uranium, tungsten) are created mainly through supernova
Figure 5. Composition of the crust of a neutron star. Source: Wolf et al Physical Review Letters 110 (2012) explosions occurring when sufficiently massive stars die and within neutron stars where the rapid neutron capture r-process can occur. The enormous, fast neutron flux in these events converts iron seed nuclei to heavier elements in a few seconds, which then decay to the heaviest elements in the periodic table (see NASA's neutron star collision animation). This partially explains the rareness of these denser elements. Nuclear astrophysics and the nucleosynthesis periodic table provide an understanding of the origin of elements in the universe.

In a recent Physics Today article, "Formation of the Heaviest Elements," researchers found that the rapid neutron-capture r-process needed to build up many of the elements heavier than iron may primarily occur in neutron-star mergers, not supernova explosions. Their analysis of the chemical composition of the Reticulum II group stars strongly suggests that neutron-star mergers are how the universe makes elements such as gold and platinum.
Abundance of Elements in the Earth's Crust
The elements in our solar system originated from the dead stars remnants that coalesced to into the sun and planets. Our galaxy and solar system consist mainly H and He because the bulk of the mass in the universe is in the form of stars. The next three elements (Li, Be, B) are rare because they were poorly synthesized in the Big Bang and also in stars. All of the periodic elements found in space can be found or made on earth. Our earth consists of approximately 83 elements. Another 10 trace unstable elements are produced through the radioactive breakdown of the two heaviest elements. An additional 24 synthetic transuranium elements have been created in the laboratory. Silicon and iron are some of most common elements in the earth and other rocky planets of our solar systems because they were formed by earlier generations of stars that blew up as supernovas. Our solar systems must have been formed from the left-over remains of these earlier generations of very big and hot stars that ended their lives as supernovas or neutron star collisions because the earth's crust contains some elem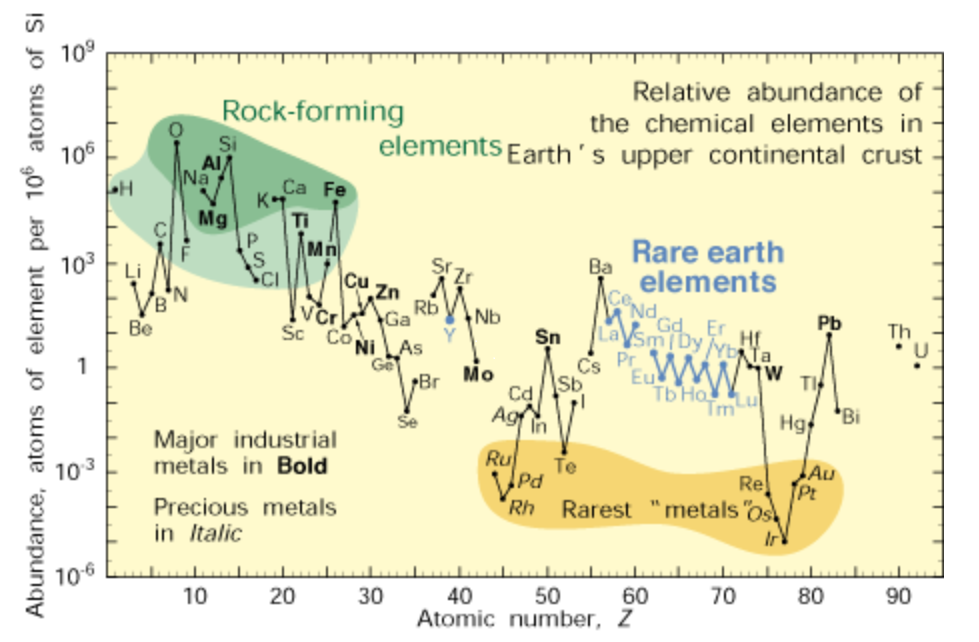 Figure 6. Abundance of elements in the earth's upper crust relative to silicon. Source: USGSents heavier than iron such as uranium, gold, mercury, and tungsten. Perhaps there are other planetary systems with higher abundances of elements heavier than iron because they were born from the remnants of more supernovas.

The chemical nature (density, volatility, reactivity and siderophilicity) of the elements also impacts elemental abundance and concentration in the earth's crust. Elements like hydrogen (H) and helium (He) are first and second most abundant elements in the universe, respectively. Gas giant planets like Jupiter and Saturn consist mainly of hydrogen and helium, but H and He are not as common on earth because these light elements have escaped earth's gravity. Early planets had molten surfaces, so gaseous elements or elements forming volatile compound have become depleted in the earth's core through evaporation unless they formed into less volatile minerals like silicates or oxides. For example, tellurium and selenium have been depleted from the crust because these metal elements form of volatile hydrides. The gases and water on earth are constantly "evaporating" out into space. The water (H20) on the earth was formed through the gravitational capture of water-bearing asteroids, 4.65 billions of year ago. (see "Meteorites Brought Water To Earth During the First Two Million Years." Small water laden asteroids continue to fall to earth.
Rare Earth Elements (REE)
The rare earth elements (REE) include lanthanum (La), cerium (Ce), praseodymium (Pr), neodymium (Nd), promethium (Pm), samarium (Sm), europium (Eu), gadolinium (Gd), terbium (Tb), dysprosium (Dy), holmium (Ho), erbium (Er), thulium (Tm), ytterbium (Yb), lutetium (Lu) and yttrium (Y ). The term "rare" earth elements is a historical misnomer. La, Ce, Pr, and Nd are the most abundant REE and their abundances are similar to commonplace industrial base metals such as chromium, nickel, copper, zinc, molybdenum, tin, tungsten, or lead (see Figure 6). Even the two least abundant REE (Tm, Lu) are nearly 200 times more common than gold. While base metals and precious metals tend to concentrate, REEs have very little tendency to become concentrated in exploitable ore deposits, which results in most of the world's supply of REE available from only a handful of sources.
Noble and Precious Metals
The noble or precious metals are the "rarest" elements in the earth's crust, which accounts for their price. Many of the precious metals (gold, silver and platinum group metals (PGMs), as well as cobalt, molybdenum, nickel, germanium, and tungsten, are iron-loving or siderophile elements, which means they have high solubility in solid or liquid iron. The rarest of the precious metals are the PGMs elements, which consist of iridium, osmium, palladium, platinum, rhenium, rhodium, and ruthenium. Precious metals are "noble" because they do not form stable oxides or strongly bonded oxides (e.g., free energy of formation or "delta GOxide" is positive for gold oxide). The noble nature allows these elements to remain in a denser form. The precious metals are some of the densest elements. Gold, rhenium, platinum, and iridium have densities of 19.28, 21.92, 21.46, and 22.56 g/cm3, respectively. Osmium is the densest metal at 22.61 g/cm3 and only 3 kg were imported for use 2016 according to the USGS. The high density, nobility and siderophile nature of these precious metals results in their concentration in the earth's iron core and depletion on the outer crust. The siderophile elements with a high affinity with oxygen such manganese formed oxides and remained more prevalent in the earth's crust.
Starstuff
The abundance of elements in the earth's crust is a result of their origin through cosmic nucleosynthesis processes as well as their distribution by gravity due to their nature (density, volatility, reactivity, etc.). Understanding the genesis of element not helps in understanding the low abundance of certain alloying elements, but the nature of the world around us and ourselves – our own composition. In his "Cosmos series"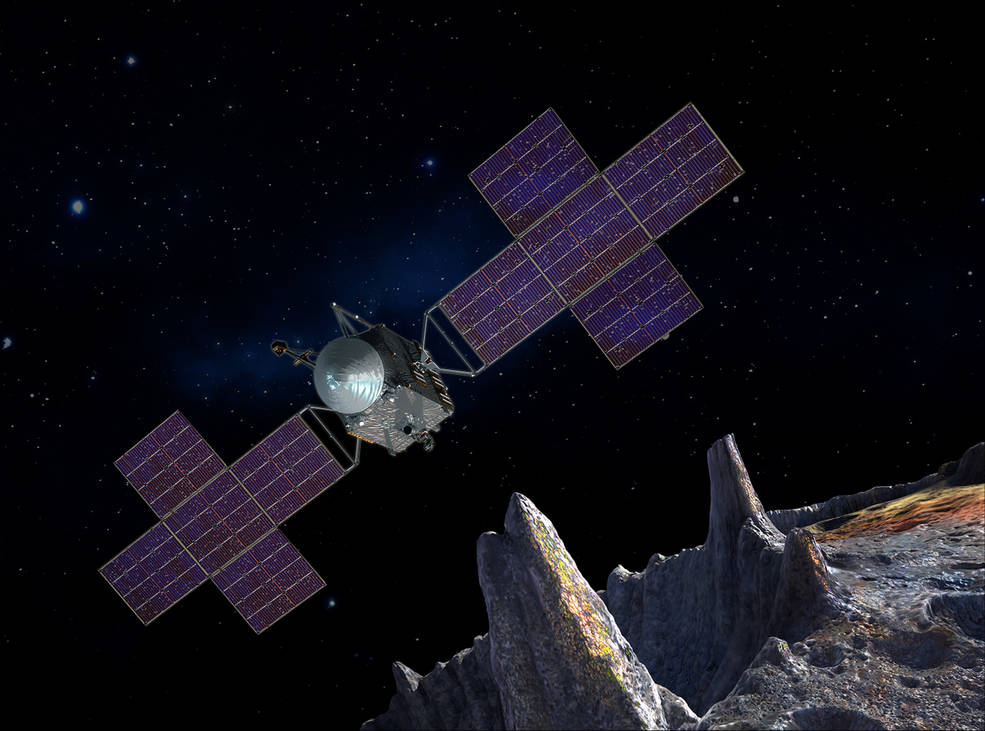 Figure 7. Artist's concept of Psyche spacecraft with five-panel solar array Source: NASA/JPL-Caltech/Arizona State Univ./Space Systems Loral/Peter RubinCarl Sagan famously said, "The nitrogen in our DNA, the calcium in our teeth, the iron in our blood, the carbon in our apple pies were made in the interiors of collapsing stars."
If you find this subject interesting, then you might want to pick up a copy the book, "Searching for the Oldest Stars: Ancient Relics from the Early Universe," from the Indiana Jones of stellar archeology, Anna Frebel.
While I better understand scarceness of certain alloying elements now, their rareness is still irritating. I hope we can speed up our journey out in the solar system and mine new sources for these critical alloying elements in asteroids or the crusts of other planets. NASA is launching its discovery mission to the Psyche asteroid in the summer of 2022. NASA will reach the unique metal asteroid in 2026, which four years earlier than the original timeline. The 16 Psyche asteroid consists of iron and nickel with a worth estimated at around $10,000 quadrillion USD. The unique asteroid is valuable to NASA scientists because it is likely the remnants of a planetary core and will shed light on planet formation processes.