7 Materials that Only Exist or are Made in Space
Gary Kardys | January 11, 2018
Are there materials that can only be created in space? Yes! In fact several materials occur in space that cannot be reproduced on earth. Many of these "space materials" have unique structures and properties.
Widmanstätten Structures in Iron-Nickel Meteorites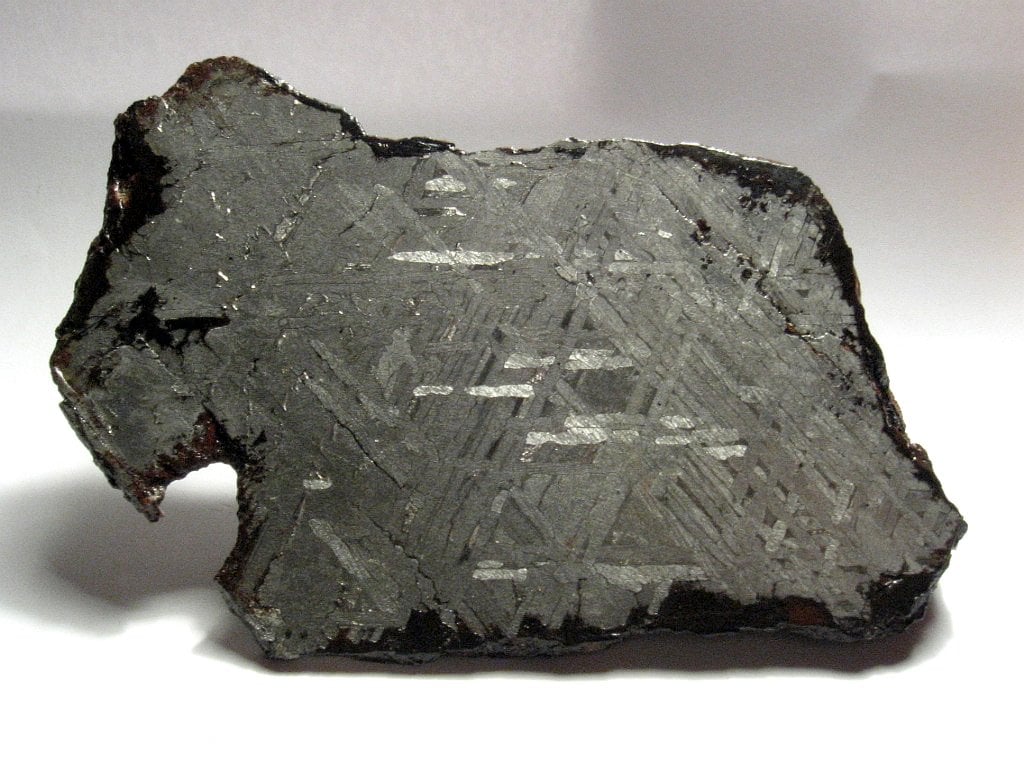 Figure 1. Toluca meteorite showing widmanstatten structure. Source: H. Raab/CC BY-SA 3.0
Widmanstätten-structured meteorites have long nickel-iron crystals, which are bands, ribbons or lamellae of kamacite and taenite phases. The Widmanstätten structure is characterized by a geometrical pattern resulting from the formation of a new phase along certain crystallographic planes of the parent solid solution. The orientation of the lattice in the new phase is related to the orientation of the crystal lattice in the parent phase. The Widmanstätten structure was first seen in meteorites. Modern steels, titanium alloys and zirconium alloy can develop a Widmanstätten microstructure using the appropriate heat treatment. These materials have fallen from space and are found on earth, but the Widmanstätten structured iron-nickel meteorites can only be made in space under slow cooling rates. The nickel-poor kamacite lamellae form through solid state diffusion of nickel at 700 and 450 °C, with very slow cooling over 10,000,000 years or less. The slow cooling rates of 100 to 10,000 °C/Myr (0.0001 to 0.001°C/year) cannot be reproduced in the laboratory.
Metallic Hydrogen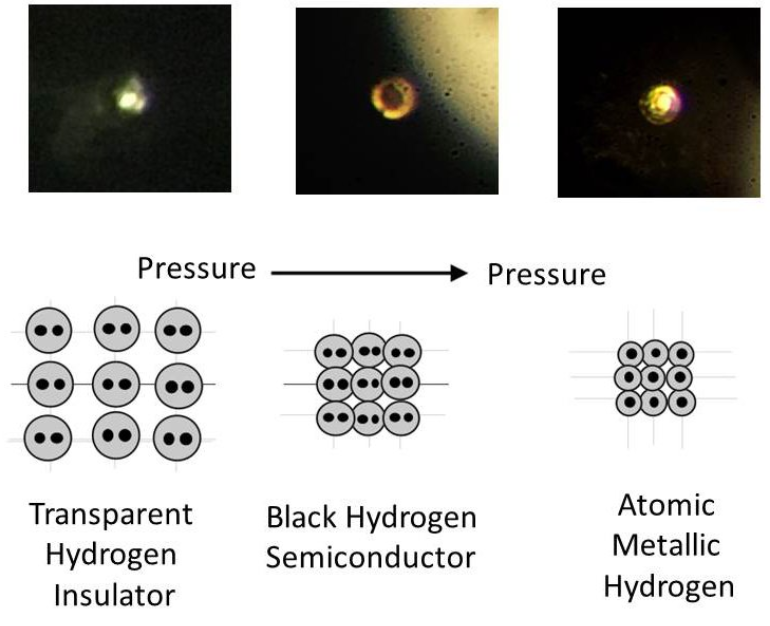 Figure 2. Metallic hydrogen potential created in a laboratory by Havard researchers in 2016. Source: ScienceAlertMetallic hydrogen layers likely occur within gas giant planets like Jupiter and Saturn. These planets' outer surface consists of gaseous hydrogen and helium. At greater depths, hydrogen is compressed and transitions from an insulator to a metallic conductor or superconductor.
In 2016, several Harvard researchers claimed to have synthesized metallic hydrogen under high pressures in a diamond anvil cell. Some researchers still question whether or not metallic hydrogen was really produced in a laboratory. Pressures of 100 GPa (1.45 x 107 psi) are believed to be required to create liquid metallic hydrogen. Some theorists have predicted that metallic hydrogen could be metastable -- like diamond, the hydrogen would remain metallic after removal from the high pressure anvil. Metastable metallic hydrogen could be the ultimate lightweight material, the most powerful rocket fuel or the ultimate superconductor. The Harvard researchers observed the hydrogen transform from a transparent insulator to a black semiconductor and then finally to a reflective metal.
Compact Star Degenerate Matter
The densest materials found in the universe are contained in "compact stars," which are dead stars or stellar remnants. Astrophysicists distinguish between three different types of compact stars: white dwarfs, neutron stars and black holes. The tools of advanced observational astronomy like the Hubble space telescope make such stars superb astrophysical laboratories for seeing astounding physical phenomena such as electron degenerate matter at sub-nuclear densities, boson condensates and the existence of new states of baryonic matter -- like color superconducting quark matter -- at super-nuclear densities.
White Dwarf Matter
Figure 3. Image of Sirius A (main sequence) and smaller Sirius B (white dwarf) taken by the Hubble Space Telescope. Sirius B, which is a white dwarf, can be seen as a faint point of light to the lower left of the much brighter Sirius A. Source: NASAWhite dwarfs are thought to be the final evolutionary state of stars whose mass is not high enough to become a neutron star, which would include our sun and over 90 percent of the stars in the universe. After the hydrogen-fusing period of a main-sequence star of low or medium mass ends, the star will expand to a red giant. In the red giant phase, helium is fused to carbon and oxygen in its core by the triple-alpha process.
If a red giant has insufficient mass to generate the core temperatures of around 1 billion Kelvin required to fuse carbon, an inert mass of carbon and oxygen will build up at its center. Next, the star will shed its outer layers. A planetary nebula is formed and the star's core, a white dwarf, is left behind. Most white dwarfs are composed of carbon and oxygen. The material in a white dwarf no longer undergoes fusion reactions, so the star has no source of energy and cannot support itself against gravitational collapse. The white dwarf star is supported only by electron degeneracy pressure resulting in extremely dense degenerate matter forms.

The degenerate matter in a white dwarf consists of atomic nuclei in a sea of electrons. Metals and alloys on earth consist of metal ions in a sea of electrons. A white dwarf contains the mass of our sun compacted into a star with the volume of our earth. Oxygen-carbon, neon and oxygen–neon–magnesium dwarf stars form depending on the size of the red giant star. The magnetic fields in a white dwarf may allow for the existence of a new type of chemical bond, "perpendicular paramagnetic bonding," resulting in a new "magnetized matter."
Neutron and Quark Matter
Stars with masses 1.35 to 2.1 times the mass of the sun die (exhaust their fusible elements) in a catastrophic supernova explosion ejecting iron and heavy elements into space, with the remaining core collapsing to form a neutron star. The stellar core collapse increases pressures causing electrons and protons to fuse by electron capture.
The loss of electrons allows the neutrons to collapse into a dense ball or a "giant atomic nucleus," with a thin overlying layer of degenerate matter or iron. The matter within a neutron star is neutron matter, neutronium or element (n), with atomic number zero (Z=0). The extreme pressure inside a neutron star may deform the neutrons into a cubic symmetry, allowing tighter packing of neutrons. The matter in the early universe just after the big bang may have consisted of neutron matter.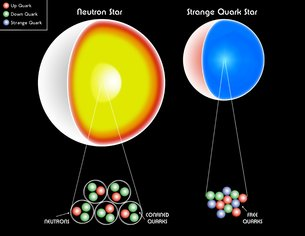 Figure 4. Degenerate matter such as neutron matter and quark matter in super-dense, dead stars. Source: ESANeutronium atoms are neutrons. Neutrons are normally viewed as the electrically neutral particles which combine with protons to form the atomic nuclei of all elements heavier than hydrogen, which consists of a single proton and electron. The binding force of neutrons holds the positively charged protons together in atomic nuclei. The density of the very early universe was too great for protons and electrons to exist separately; this must have been the original form of nucleonic matter. Neutron matter accounts for 1% of all non-dark matter in the universe. Degenerate neutron matter can have a density of 4×1017 kg/m3, which is approximately 13 orders of magnitude denser than the densest known conventional matter.
Theorists believe that extreme pressures may deform the neutrons into a cubic symmetry, which enables tighter packing of neutrons and may cause strange matter formation. The cores of some neutron stars may contain quark matter, another type of degenerate matter. The quark matter in these hybrid stars might be strange or non-strange. Strange matter is theorized to be a dense, liquid form of quark matter. The strange matter hypothesis predicts strange quark matter could be more stable than nuclear matter. If the strange matter hypothesis is true, then quark stars composed of pure quark matter possibly could exist.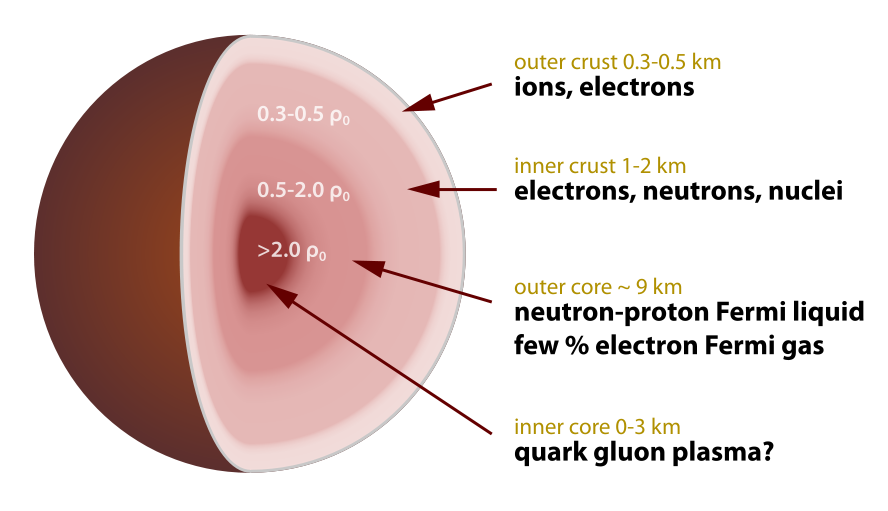 Figure 5. Cross-section of a neutron star. Source: Robert Schulze/CC BY-SA 3.0We cannot duplicate the conditions within a neutron star and create dense neutron matter. However, we have created "cold neutrons" on earth by slowing down neutrons to speeds comparable with those of the molecules in ordinary matter at room temperature. Cold neutrons can be contained in a bottle to form an artificial and highly radioactive noble gas. Cold neutron matter, or the element with atomic number zero, decays with a half-life of 14.64 minutes to form protons and electrons - the constituents of hydrogen. Cold, thermal and hot neutron radiation is commonly employed in neutron scattering facilities for neutron diffraction and the analysis of condensed-matter. The ability to create and manipulate neutrons is important in the development of nuclear reactors, nuclear weapons and neutron diffraction. For instance, fission is initiated and propagated by the absorption of neutrons by uranium and plutonium atomic nuclei.
Black Hole Matter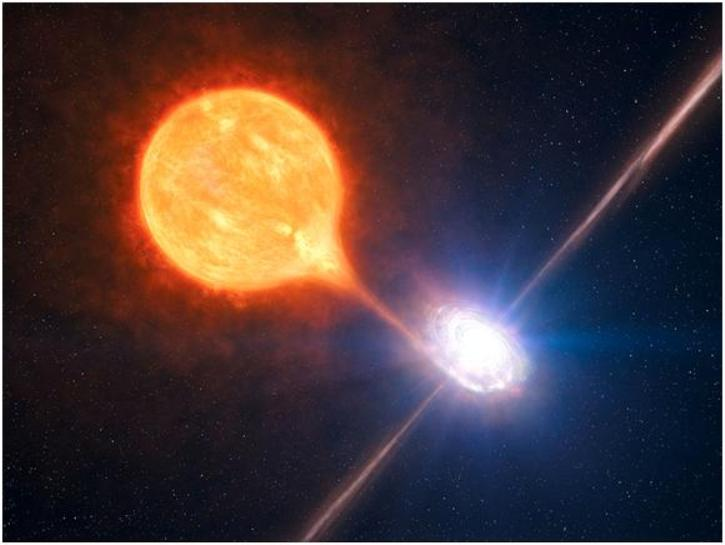 Figure 6. Star orbiting a black hole. The matter within a black hole may not exist in our universe. Source: NatureThe most massive stars form black holes. Matter within a black hole is so dense, no light or energy can escape - except possibly through quantum tunneling. White dwarfs and neutron stars are in hydrostatic equilibrium, which means the outward pressure gradients balance the inward pull of gravity. In black holes, gravity has overcome the outward balance creating an event horizon or singularity.
While Einstein's relativity theory would predict that the density of matter in the black hole would approach infinity, we know this cannot be true because a condition of zero size and infinite density contradicts quantum theory. Some astrophysicists believe that the matter in a black hole no longer exists in our universe because matter, light and energy cannot escape a black hole. Socratica's video, What is a Black Hole? – Black Holes Explained, provides more information.
Dark Matter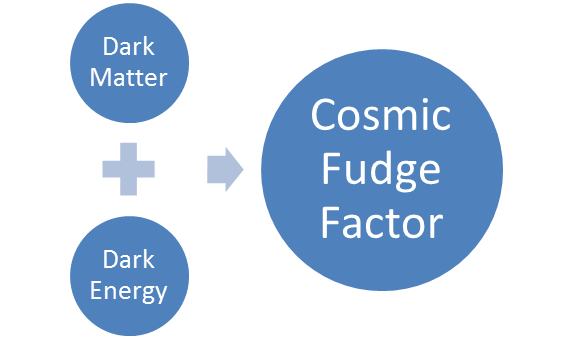 Figure 7: Dark matter and dark energy are a cosmic fudge factor to account for the expanding universe and its increasing rate of expansion. Source: IEEEScientists believe the universe is composed of approximately 68 percent dark energy, 27 percent dark matter and five percent normal matter based on the accelerating expansion rate of the universe and the currently accepted gravitational theory of Einstein. Dark energy and dark matter are essentially a "cosmic fudge factor" to account for discrepancies between theory and observations.
The Oxford English Dictionary definition of "fudge factor" is "a figure included in a calculation to account for error or unanticipated circumstances or to ensure a desired result." Wikipedia's entry for fudge factor lists dark matter and dark energy as examples of fudge factors. Engineers use safety factors to provide a margin or to account for unknowns, but a factor that accounts for 95 percent of the universe seems a bit much. Perhaps a new theory is required. Dark matter has not been detected yet, so we can only speculate about dark matters properties.