Unique and Robust Umbilical Systems
Shawn Martin | July 27, 2018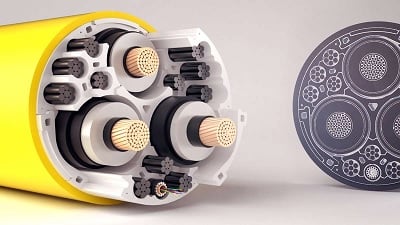 Source: Aker SolutionsA bundle of cables and conduits referred to as an umbilical links surface components to seafloor oil and gas infrastructure. As more and more offshore developments tackle challenging environments, including ultra-deep waters and extended-reach wells, there lies a growing demand for robust umbilicals.
Each umbilical serves a particular purpose and may include power and control lines, hydraulic fluid lines, electrical heating systems, flow lines or injection fluids. To address these needs and endure challenging environments, Aker Solutions utilizes a wide range of technologies including carbon fiber rods, suspended power cores and specialty polymers.
Typical umbilical and cable systems supplied by Aker Solutions include the following.
Power Umbilicals and Cables
Power and control cables are deployed either from a fixed platform or floating unit. They are designed to power and control subsea processing and boosting systems.
Steel Tube Umbilicals
Steel tube umbilical designs connect onshore or offshore hosts with subsea facilities. They are designed for the intended application and may contain hydraulic fluid control lines, injection fluids, electrical power lines or fiber optic signal transmission.
Direct Electrical Heating Systems
Direct electrical heating systems are deployed in enhanced oil recovery methods. They are typically designed for use in flow-lines and pipelines to prevent the formation of wax and hydrates and improve the estimated ultimate recovery of oil or gas in the reservoir.
Integrated Production Umbilicals (IPU)
An IPU is an alternative solution that combines the function of several umbilicals into a single system.