Subsea Tracked Vehicle Built for Offshore Cable Lay Projects
Shawn Martin | May 29, 2018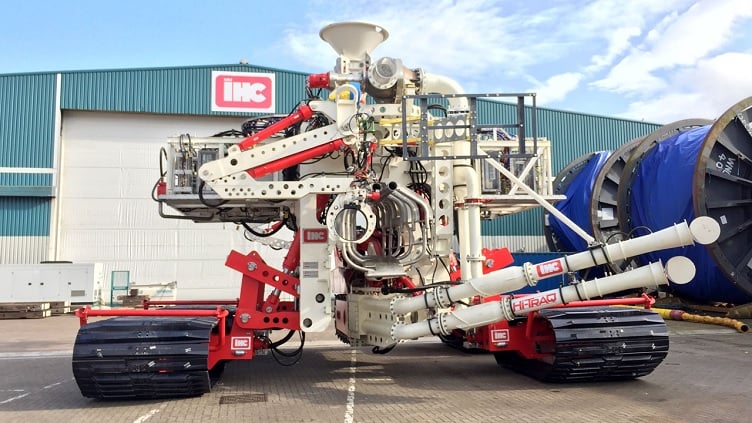 Source: Royal IHC
A subsea trencher designed to withstand harsh environments and navigate through steep slopes with varying soil conditions features four independent tracks and a self-leveling suspension system. The vehicle provides stability, smooth operation and consistent trenching depths as is desired when developing offshore wind farms.
Royal IHC's Hi-Traq Offshore Trencher provides unrivalled maneuverability and traction. It is able to traverse slopes with a pitch as great as 20 degrees, climbing over sand waves and boulders while supporting trench radii down to 15 meters as is required for cable second ends.
The vehicle includes both a high-pressure jetting system and a high power, low wear cutting chain with multiple tooling arrangements. It excels in challenging shallow marine environments where strong currents and tidal influences impose significant drag and lift forces.
The Hi-Traq is a very capable subsea cable trencher and while it was specifically designed for offshore cable lay projects, it is capable of performing a range of burial activities involving power cables, pipelines, flow lines or umbilicals.