New Extended Stroke Artificial-lift Solution
Shawn Martin | July 20, 2018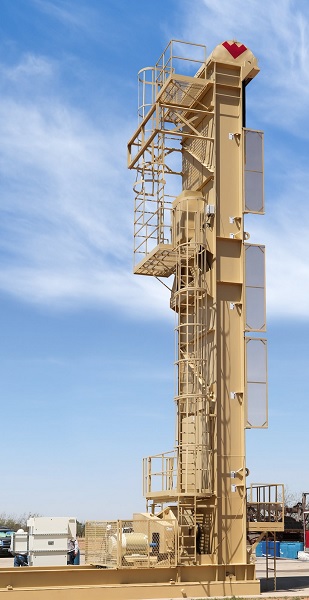 Source: Weatherford International plc
A high functional pumping unit was re-released with an extended pump stroke length of up to 36 and a half feet. The new pumping unit is easy to maintain and packed full of features in an industry proven design that is sure to improve artificial-lift efficiency.
The new Rotaflex Long-stroke Pumping Unit from Weatherford International plc increases production rates in deep, challenging and high-volume wells. The unit reduces lifting costs, is designed to streamline maintenance programs and is available with complementary tools that are designed to further increase operational efficiency.
Reduced Lifting Costs
In deep wells, there is no match for rod lift and the Rotaflex is a high-performance rod lift solution that produces more than conventional rod-lift systems. The increased stroke length allows for a more complete barrel fill and by increasing production with a reduced stroke rate there is less wear on the wellhead and downhole equipment effectively reducing operating costs, lengthening equipment longevity and reducing the risks for downhole failure.
Streamlined Maintenance Programs
The redesigned Rotaflex pumping unit features a new platform and rear access doors above the gear reducer. This coupled with the incorporation of larger maintenance doors helps eliminate confined space issues enabling easier maintenance with increased access to wear parts.
Complimentary Tools
Weatherford offers several complementary tools to further increase efficiency and optimize production rates. Their WellPilot variable-speed rod pump controller monitors and controls pumping performance to help optimize performance and reliability. In deviated wells, they offer COROD Continuous Rods, which aid by reducing friction and extending the life of rod-string and tubing when compared to traditional sucker rods. They also offer advanced analytics through their FORESITE platform, which connects the entire production system to maximize performance and gain meaningful insights.
Kyle Chapman, president of production at Weatherford, stated, "For decades, our customers have relied on Rotaflex pumping units to quickly transition from short-term, early lift methods to high-performance rod-lift systems. We have spent the past few years talking with users, learning how we can make our Rotaflex units even more effective for them — and we are very pleased to start putting our optimized Rotaflex units to work in the field."