Sharpie is a Simple Solution for Cutting Gummy Metal, Research Finds
Amy J. Born | July 18, 2018
Metals such as nickel, aluminum, stainless steels and copper are used to make many products, from simple valves to orthopedic implants and surgical instruments to aerospace components. They present an annoying challenge for manufacturers, however; their softness makes them difficult to cut, drill or grind.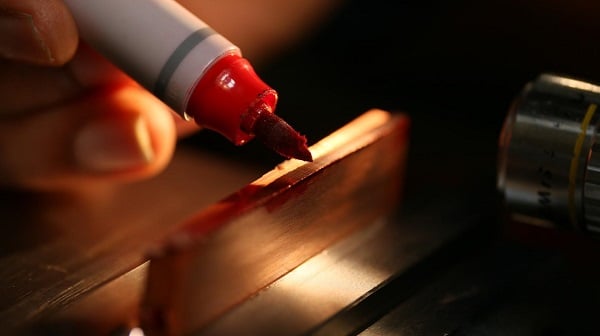 The application of a permanent marker, glue or tape makes gummy metals such as aluminum, stainless steels, copper and tantalum much easier to cut for industrial applications. Source: Purdue University image/Erin EasterlingA simple and surprisingly low-tech solution can be found in a typical kid's pencil box. According to researchers at Purdue University and the University of West Florida, applying Sharpie marker, glue sticks or tape improves the machinability of "gummy" metals. The effectiveness of inks and adhesives comes from the way they stick to the metal surface to create a smoother, cleaner and faster cut than can currently be achieved.
"Gummy metals characteristically deform in a very wiggly manner," said Srinivasan Chandrasekar, Purdue professor of industrial engineering. "This wiggly flow involves significant energy consumption, which means that these metals require more force to machine than even some hard metals. We needed to find a way to suppress this wiggly flow."
The marker or adhesive makes the metal more brittle, much like ceramic or glass, where it needs to be cut.
Other efforts to make gummy metals brittle have had limited success, mainly because they create more problems than they solve. One method coats the metal to be cut with a liquid metal, such as gallium which is used on aluminum. Unfortunately, liquid metals can make the entire surface too brittle and cause the whole piece to crumble. Other methods also result in tears or cracks, and some are toxic.
The study found that ink or adhesive on the metal's surface reduced the force of the cutting while keeping the metal intact. A clean cut could be achieved in seconds, improving the quality of the machined surface. This improvement to the machinability of gummy metals and alloys will potentially lower product costs, improve performance and spur design innovation without, to the researchers' knowledge, any negative environmental impacts.
Chandrasekar's team will continue working to determine the degree of stickiness that works best for cutting gummy metals. Their goal is for manufacturers to put their discovery into practice.
The study was recently published in Physical Review Applied.