Ship Unloading: From the Waterline and Up
Kevin J. Harrigan | July 10, 2018
Strong economies often have one major characteristic in common: proximity to water. More than just an aquifer, waterborne transit is critical to commerce and trade.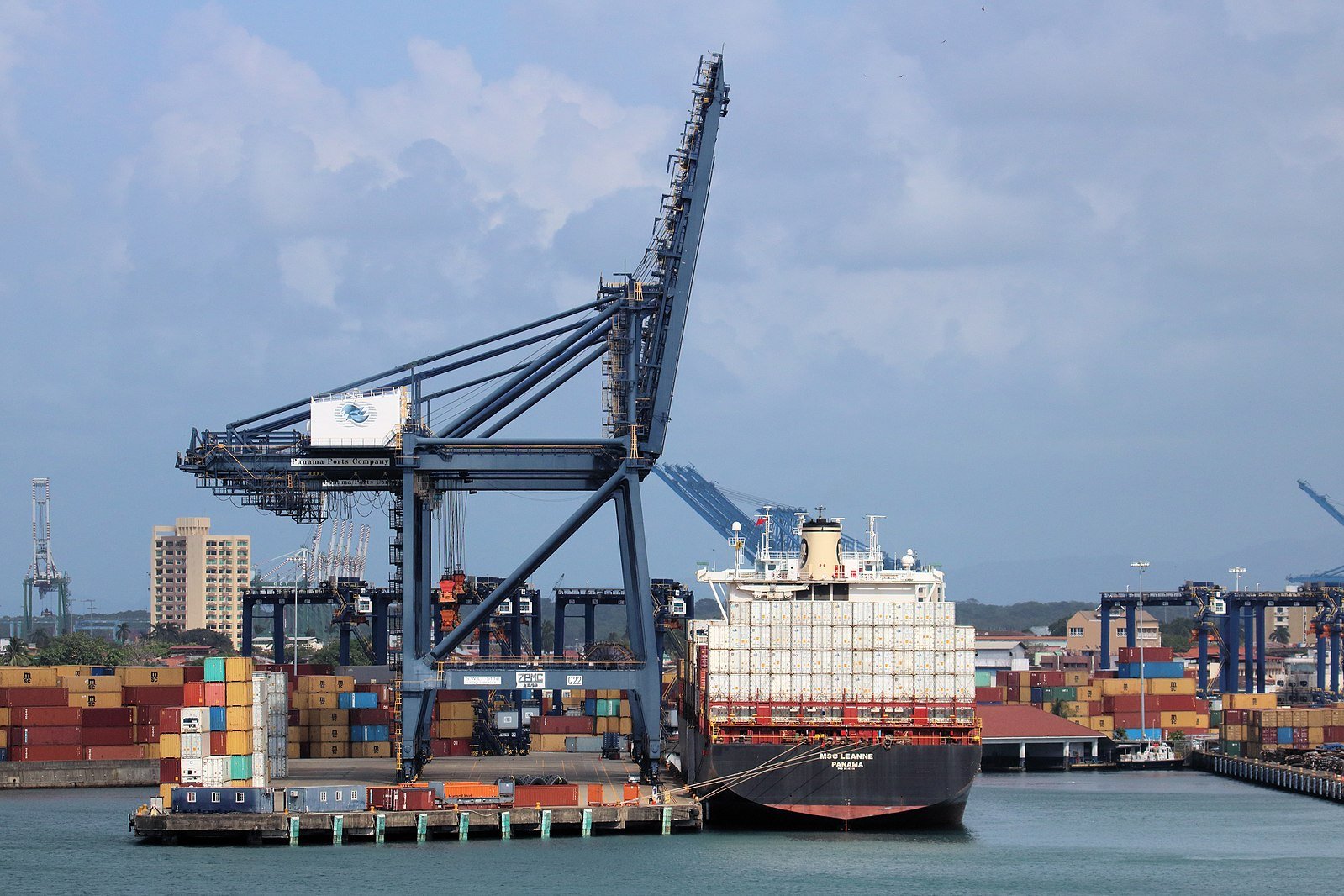 A gantry crane services containers on the container ship MSC Leanne at a port in Panama. Source: ImagePerson/ CC BY-SA 4.0
According to the 2013 Rose George novel "Ninety Percent of Everything," 90 percent of all goods are at some point transported by cargo vessels. This is due to the incredible efficiency — both economically and environmentally — of the maritime shipping industry. Seaborne freight transport has only gotten cheaper in recent years, per the United Nations Conference on Trade and Development, as shipping vessel supply has outpaced cargo demand, particularly in dry bulk cargos.
However, only those cities and nations with developed, high-quality port facilities benefit from this trade advantage. Due to this, many first-, second- and third-world economies are keen to expand and improve port infrastructure, so as to lower the cost of goods for their businesses and stimulate trade with partners. As a result, ports continue to be built and expand, starting right at the water's edge.
Infrastructure
Before the first container can be unloaded, the port facility requires ample harbor and transportation infrastructure. This includes vessel berths that are deep and large enough to accommodate ships. Historically ports were positioned in natural harbors, but as shipping technology has grown, so have the ships. Ports today are typically excavated and dredged to ensure a large ship's draught has sufficient clearance. Channels may be dug for specific types of ships along routes. Dredging needs to be redone periodically due to the natural buildup of sand and silt. Anchorages and moorings are typically protected by natural and artificial breakwaters, which is another essential piece of port infrastructure.
Additionally, piers and quays need to be constructed. For heavy freight, these are most commonly reinforced concrete and cement installations, with seawalls and supersized working areas. The majority of large cargo ships dock alongside quays to offload quantities of containers, automobiles or bulk cargo. Relatively lightweight cargo can offload onto wood piers or docks.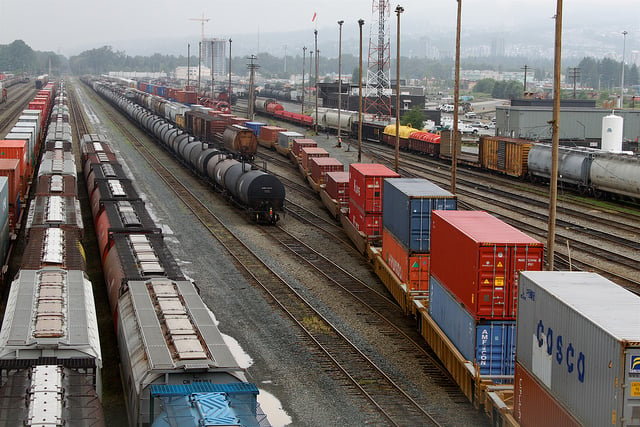 Intermodal connections help distribute goods further along the supply chain. Source: Roy Luck / CC BY 2.0The port's connections to utilities and intermodal transportation are of significant concern. Ship offloading equipment and related buildings all require electricity, and once a ship is docked it typically is fed electrical current with ship-to-shore power. Land-based power can be supplied by an electric utility company, or in some cases, especially in military ports, the power can be delivered by on-site generation technologies. Although the adoption has been gradual, ports often are excellent locations to take advantage of renewable power sources, such as solar, wind and tidal.
Offloaded goods and cargo need to be forwarded to inland distributors and customers. Well-developed local and regional road systems are key, and in many cases ports also offer railroad terminals. Some ports may offer quick access to airports for expedited cargo delivery or continue marine shipping inland by barge or other cargo-specific vessels.
Ports also require a home fleet of tugboats and tenders, which help maneuver vessels in congested waterways, move barges, transfer crew, perform port or vessel maintenance or many other tasks that keep ports functioning.
Equipment
The equipment needed at a port is largely determined by the industries and freight most important to the local and regional economies. Depending on the type of cargo, minimal material handling equipment is required. Good examples are roll-on, roll-off (ro-ro) ships, meant to carry vehicles or payloads with modular wheels. This type of vessel only requires a quay compatible with operations and a designated holding area or warehouse for the cargo.
Fishing Port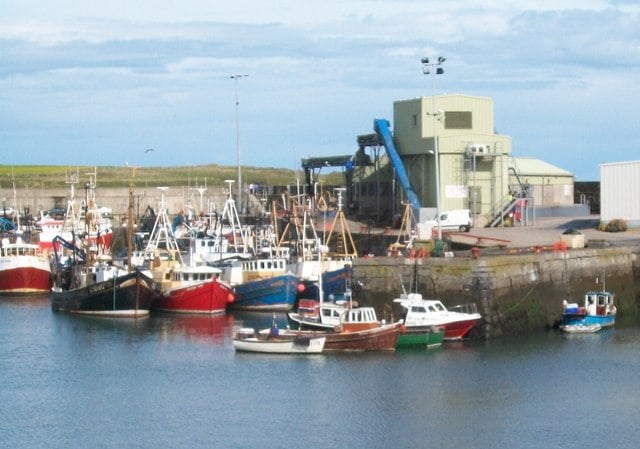 Fish processing harbor at Ardglass Harbour, Ireland. Source: Eric Jones / CC BY-SA 2.0
Due to the quick, edible expiry of dead fish, fish meat-processing plants, or canneries, are typically located on or near a commercial fishing pier. Fishing vessels can manually offload large catches, or use hoists and netting to deposit their catch onto the plant's loading zones. Perhaps the most interesting and specialized piece of equipment is the fish tender, which utilizes a peristaltic or another type of pump to suck fish from the refrigerated stores of the fishing trawler and then deposits the fish at a cannery.
Cannery equipment varies based on plant technology and types of fish being caught and supplied.
Scale systems to determine the volume of a fish delivery
Material handling equipment
Grading equipment, to sort fish by size or type
Nobbing machines, which cut and filet fish
Flash cookers and ovens, to smoke, steam or precook fish meat
Brining machines, to wash and salt fish
Various packaging, filling, sealing, exhaust and retort machinery
Refrigeration and freezing system
Dry Bulk Cargo
The self-dischaging dry bulk carrier John G. Munson unloads coal at a terminal in Superior, Wisconsin, on Lake Superior.
Bulk cargo generally refers to commodities that are not shipped via containerization and are inefficient to package. Stores of materials such as grain, coal or ore are considered "dry" bulk cargo.
Dry bulk materials are typically raw materials destined for processing and further refinement. Since they are often in particulate or granular forms, they are loaded and offloaded by bulk material handling equipment, namely conveyors, hoppers, feeders and blowers. Additionally, storage tanks and silos may require climate control systems depending on the commodity. Recycling and recovery systems reduce loss of material when the goods are transferred.
Vessels meant for transporting dry bulk cargo typically have a hold with inclined walls, funneling the freight towards a conveyor and boom system, allowing the vessel to self-discharge. This eliminates the need for offloading equipment at the port. However, heavy-duty vehicles like dump trucks, excavators and loaders may be required.
Wet Bulk Cargo: Oil, Gas and Chemical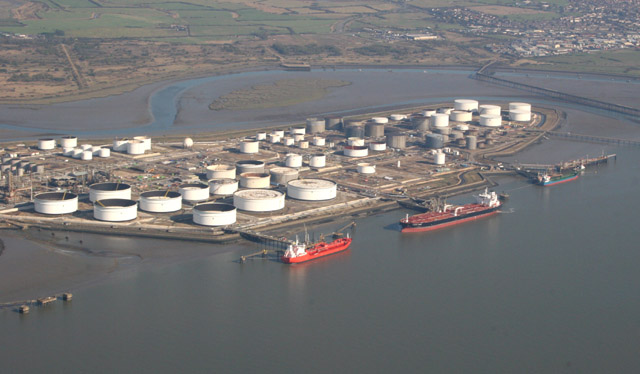 Coryton Oil Refinery in Essex, England (now defunct). Source: terry joyce / CC BY-SA 2.0
Large quantities of liquid or gas, such as petroleum or chemicals, are contained within storage reservoirs on the vessel; these commodities are considered "wet" bulk cargo.
Storage tank farms are a common sight at oil, gas and chemical terminals, while pipeline systems are essential to fluid transfer. Tankers for these commodities typically moor or anchor away from the shore and transfer contents via jetties to storage containers on land. This is a preventative measure due to the dangerous nature of transported oil, gas and chemicals.
Additionally, spill containment technologies and firefighting systems are important items of safety equipment. Depending on the exact industries and applications served, there may be varying needs for exchangers, columns, reactors, pressure vessels, process heaters and coolers and reboilers. Some facilities may also offer blending or drumming services.
Containers
A reach stacker for relocating containers.
ISO or intermodal containers optimize cargo transport and delivery by standardizing the dimensions and performance of the container. The container crane is essential for loading and offloading payloads from the vessel. The crane is mounted on rails embedded in the quay, allowing the cranes to traverse the length of the ships. The boom and operator cab of the crane is built upon a strong gantry. The boom extends over the vessel to position the spreader, which picks up containers by the four topside corners. The container is lifted from the ship and transported to the quay, where the container is positioned in a staging area or loaded onto a semi-trailer. Trucks may bring the container to another section or the port for storage or, once cleared by customs agents, proceed to a destination outside the port.
Container telehandlers and reach stackers help organize containers into storage stacks. Empty containers may sit for a long while before reuse, but loaded containers are typically processed quickly. Container organization usually involves advanced logistics planning aided by computer programs. Increasingly, container port operations are becoming automated, reducing the number of stevedores and personnel facilities.
Passenger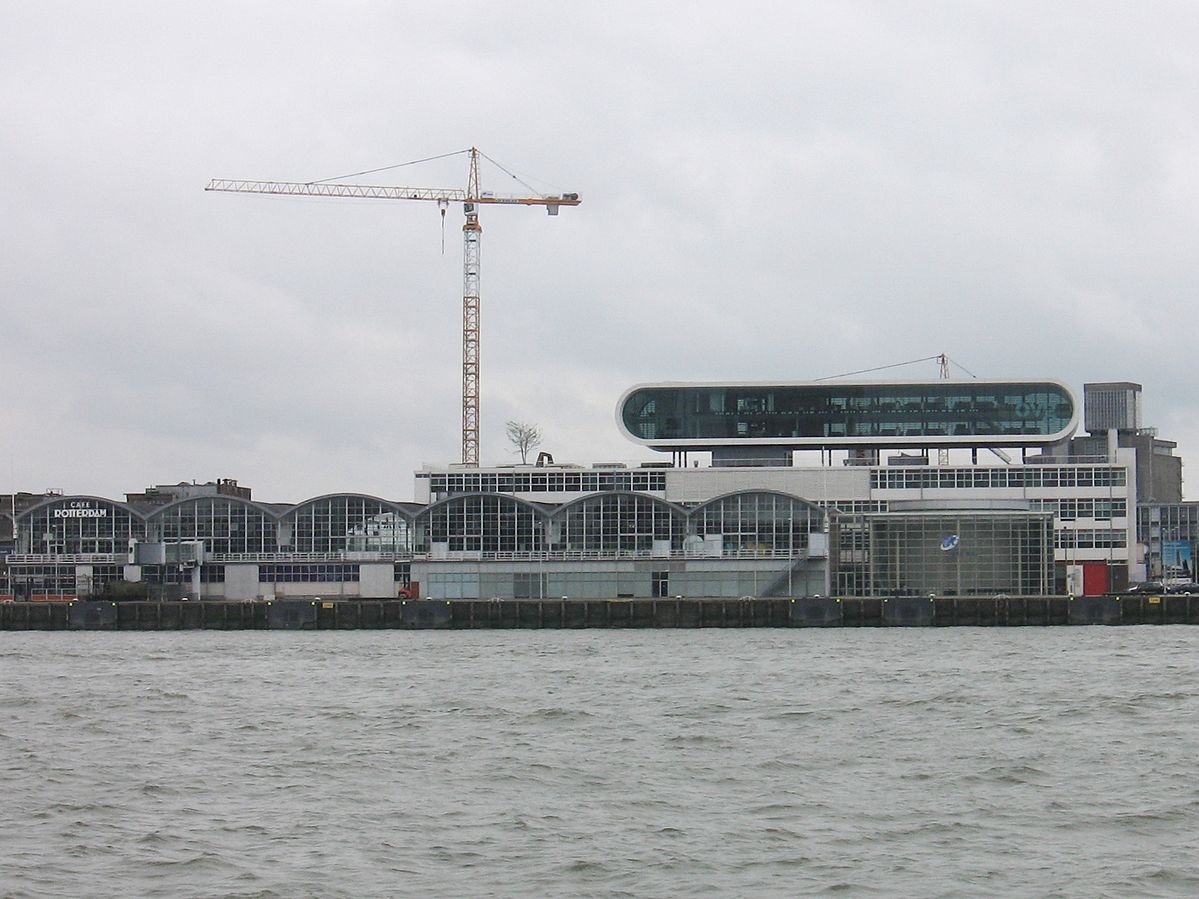 The passenger cruise terminal at the Port of Rotterdam, Netherlands. Source: Michiel1972/CC BY-SA 3.0
Not to be overlooked are passenger terminals, which have drastically different needs than those of cargo ships. Whereas cargo ports are located adjacent to large cities and downtowns, passenger ship terminals are sometimes more centrally located in urban downtowns. If not, the cruise line typically needs to accommodate passenger parking or drop-offs. The primary function of these port facilities is the comfort and processing of travelers and their luggage, as well as the resupply of provisions.
The quay or pier will typically offer buildings for ticketing, customer service, passenger registration and customs and border checkpoints, as well as shelter in case of precipitation. Passenger ship luggage is typically carried to the ship by baggage cart trains or forklifts, loaded onto ships by conveyors, forklifts or small cranes. Warehouses are often close by to replenish onboard food, beverages and other consumables.
Ports of call — brief passenger ship stopping points that are not terminals — do not need such extensive port facilities and infrastructure, since visit duration is usually short. Ship "hotel" facilities (e.g., ship-to-shore power, provisioning) are not required. Disembarking passengers may be carried ashore by tenders or walk along floating docks, where the pier or quay is quite tourist oriented.
From the Water Up
Considering all the variables, port construction is a costly investment typically funded by governments, capital investment or a combination of the two. A closer look at some notable recent port development projects provides a rough basis for construction costs.
Currently, the country of Georgia is building a deep sea, intermodal port for dry, bulk and containerized freight. The initial investment of $540 million enabled the construction of a 1.6-km breakwater and 625-m quay, along with associated equipment and expenses, at the city of Anaklia. To achieve a total yearly throughput of 10,000 twenty-foot equivalent units (TEUs) — a unit of measure roughly equivalent to a 20- foot ISO container — a total investment of $2.5 billion is required. This does not include another $3.5 billion in road and rail improvements funded by the government. The project is the country's largest infrastructure improvement to date, although it is not a large port by comparison.
In 2017, Casablanca, Morocco, opened an upgraded fishing port that included two breakwaters, two quays, a floating jetty, dredging and construction of warehouses, offices and a fish market. This is the first phase of a $425 million project that also includes construction of a cruise liner terminal and shipyard.
Meanwhile in Miami, Royal Caribbean is constructing a new terminal at PortMiami, which will be home to two cruise liners, including the world's largest, Symphony of the Seas. The project sums $247 million of private investment, and will integrate digital passenger reception and integrated U.S. Customs and Border Protection offices. Throughput at the terminal could top 1.8 million travelers annually. Nearby, Miami-Dade County is building a terminal for Norwegian Cruise Line. Government investment represents $100 million, with an unspecified contribution from Norwegian; throughput at the terminal will be about one million passengers.
Conclusion
Ship unloading systems are expensive systems that are wholly dependent on the industries supported at the port. They are capital investments that should ultimately stimulate trade and local economies, paying for themselves many times over. These systems include material handling equipment, warehousing and storage solutions systems, complementary boats and ships, safety equipment and energy resources.
These investments also create jobs and renew and expand infrastructure. Metaphorically, port development and upgrades do indeed lift all boats.