Forming a Floating Park from Plastic Waste
S. Himmelstein | July 05, 2018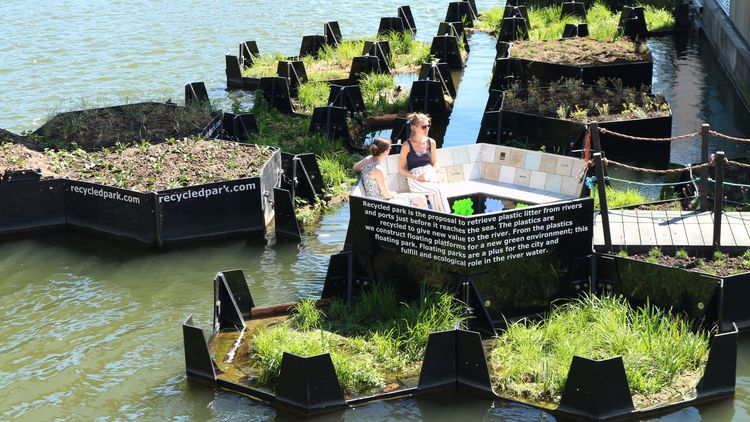 The landscaped islands now serve as recreation areas for port visitors and residents. Source: Audi AG
A new park has opened in the Rotterdam port of Rijnhaven in the Netherlands. The park is unusual in that it is floating, and unique in that it is composed entirely of plastic waste retrieved from the New Meuse River.
The project – an initiative of the Audi Environmental Foundation and the Recycled Island Foundation – collects the waste in nets and specially designed catch basins. Retrieval is actually simple, since 98 percent or more of polluting plastic is found in the first meter below the surface. The collected materials are used in the manufacture of hexagonal plastic islands by means of 3D printing, welding and pressing techniques.
The new plastic island in Rotterdam has a total surface area of 140 square meters (1507 square feet), formed by connecting 5 square-meter (54 square-foot) structures. Landscaping can include moss or trees, as most of the blocks have an open structure to accommodate root growth. The proliferation of roots under the water's surface provides a foundation for aquatic plants and a source of food and shelter for riverine biota. The movable islands also offer space for recreation and relaxation by human visitors.
Other locations for this plastic repurposing technology are being planned: collecting basins are to be installed in the Charleroi Canal in Brussels, Belgium, and on the Indonesian island of Ambon.