Study: A 30 year survey of marine debris in Antarctica
S. Himmelstein | May 01, 2020
Marine debris accumulating on beaches at two Antarctic sites has been monitored for 30 years by the British Antarctic Survey. Over 10,000 items were recovered during this period at Bird Island (South Georgia) and Signy Island (South Orkneys).
Each beach was surveyed once per month by one or two researchers with all debris items removed and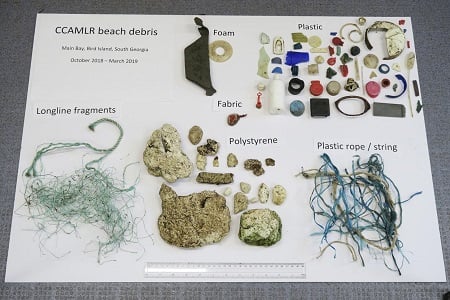 Examples of plastic debris recovered from Main Bay, Bird Island, October 2018–March 2019. Source: Claire M. Waluda et al.measured in the laboratory. Most of the 101 kg of waste collected at Bird Island — 97% by number and 89% by mass — was plastic, with glass, metal, fabric and rubber accounting for the remainder. Plastic items contributed 84% by number and 80% by mass to the 268 kg of waste recovered at Signy Island.
An increase in the quantity of beached plastic debris was observed over time but recent surveys indicate increasing numbers of smaller pieces. This trend might be attributed to the breakdown of larger pieces of plastic that have been in the Southern Ocean for a long time. Fishing gear contributed the largest proportion of debris by mass at both study sites.
Levels of debris accumulation were demonstrated to be consistent with other islands in the South Atlantic Ocean, with marine-based activities the primary source of beached debris. The data reported in Environment International suggest a temporal decline in debris accumulation with increasing latitude, with accumulation of debris much lower at Signy Island than Bird Island. This could indicate the effectiveness of legislation to reduce waste inputs in the Antarctic Treaty region or may relate to local conditions, with seasonal sea ice potentially a barrier to the accumulation of oceanic marine debris at Signy Island.