Volvo Opens U.S. Auto Production Facility
David Wagman | June 20, 2018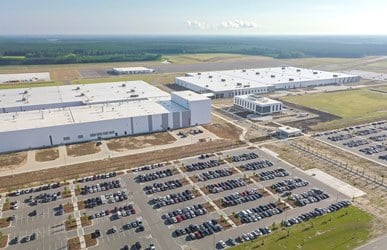 (Click to enlarge.) The plant is Volvo's first in the U.S. Source: Volvo Cars
Volvo Cars inaugurated its first U.S. manufacturing plant, in Charleston, South Carolina, on June 20. The Chinese-owned manufacturer now has plants in all of its major sales regions.
The facility includes an office building for up to 300 staff from R&D, purchasing, quality and sales. The plant can produce 150,000 cars a year at full capacity. The site occupies 1,600 acres and the building space covers 2.3 million square feet. Construction on the facility broke ground in 2015.
The company has an engine plant in Europe, three car factories and an engine plant in China, and assembly plants in India and Malaysia.
The Charleston plant starts production of the Volvo S60 mid-size sports sedan in the fall of 2018. Beginning in 2021, the factory will also build the XC90 SUV. Cars built at the plant are destined both for the domestic U.S. market and international export.
Volvo Cars is investing around $1.1 billion in its U.S. manufacturing operations and will employ around 1,500 people by the end of the year.
In 2017 Volvo Cars announced plans to electrify all new models starting in 2019. Volvo Cars has been owned by the Zhejiang Geely Holding (Geely Holding) of China since 2010. It formed part of the Swedish Volvo Group until 1999, when the company was bought by Ford Motor Co., which later sold it.