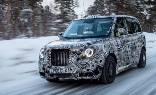 London Taxi Company is rebranding itself as London Electric Vehicle Co. (LEVC) and is rolling out a new vehicle, the TX, which includes an advanced battery electric powertrain from Volvo Cars with a small gasoline generator. The technology allows for a range of over 400 miles, including well over 70 miles with zero emissions.
LEVC is a wholly-owned subsidiary of China-based Geely, and says it aims to be the urban commercial vehicle provider of choice for cities around the world.
LEVC says it has received its first major international order from RMC in the Netherlands for an initial 225 vehicles to be delivered in 2018.
The deal will see LEVC work with Rotterdam-based RMC (Rotterdam Mobility Center) and their affiliates to provide zero-emission accessible transport in Amsterdam and elsewhere.
LEVC currently has over an 80 percent market share for purpose-built taxis in London.
In March, the company opened a car plant in Ansty, UK, to build the electric vehicles. At full capacity, the plant will be able to build more than 20,000 vehicles per year. The taxi vehicle is using Volvo Car electric powertrain system technologies and components comprising a lightweight platform.