Volvo to Build and Export Electric Cars from China
David Wagman | April 19, 2017
Volvo Cars will build its first fully electric car in China, the company announced at Auto Shanghai in China.
The model will be based on Volvo's Compact Modular Architecture (CMA) for smaller cars, and will be available for sale in 2019 and exported globally from China, Volvo said in a statement.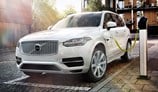 China will be home to Volvo's electric car production and export.Volvo Cars has been owned by the Zhejiang Geely Holding (Geely Holding) of China since 2010.
China is one of the world's largest sales markets for electrified cars and has targets to expand sales of fully electric and hybrid cars in order to address congestion and air quality issues in its cities.
Volvo has a commitment to sell 1 million electrified cars – including fully electric cars and hybrids – by 2025. It is also developing a fully electric car on its Scalable Product Architecture (SPA). The company also plans to offer plug-in hybrid versions of every model.
Volvo has three manufacturing facilities in China in Daqing, which makes its 90 series cars, Chengdu, which makes its 60 series cars, and Luqiao, which will make its 40 series cars.