Volvo Debuts China-Built Electric Vehicle to Compete with Tesla
David Wagman | October 17, 2017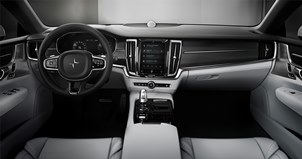 (Click to enlarge.) Interior of Polestar 1. Source: Volvo Car Group
In mid-October, Volvo Car Group unveiled the 600-horsepower Polestar 1, the company's first electric vehicle, which is set to roll off a production line in China in mid-2019.
Polestar 1 is a two-door, 2+2 seat coupe with an electric drivetrain supported by an internal combustion engine. The vehicle is expected to have a range of 150 km on electric power alone.
All future cars from Polestar will have a fully electric powertrain. Polestar 2 will start production later in 2019 and will be the first battery-electric vehicle (BEV) from the Volvo Car Group. It will be a mid-sized BEV, joining the competition around the Tesla Model 3, and with higher volumes than Polestar 1. The initial phase of the Polestar product rollout will be completed with a larger SUV-style BEV, the Polestar 3.
Volvo Cars has formed a joint venture with two companies within its parent company, Zhejiang Geely Holding. This JV is capitalized with 5 billion RMB ($752 million) of equity to support Polestar's development. Polestar is a unit of Volvo Car Group and will be fully consolidated into Volvo Car Group.
The Polestar 1 is based upon Volvo's Scalable Platform Architecture (SPA), but approximately 50 percent was created by Polestar's engineers. The vehicle will use Öhlins Continuously Controlled Electronic Suspension (CESi) advanced chassis technology and will have a carbon fiber body to reduce weight and improve torsional stiffness by 45 percent. The vehicle also will use a double electric rear axle that enables acceleration on each wheel to maximize road grip and maintain speed while cornering.
The Polestar 1 will be built in the Polestar Production Centre in Chengdu, China. Currently under construction, it is due for completion in mid-2018.
Cars will be ordered 100 percent online and offered on a two- or three-year subscription basis. The lease will add features such as pick-up and delivery servicing and the ability to rent other vehicles within the Volvo and Polestar product lines.