Video: a Boost for Ethanol-derived Jet Fuel
S. Himmelstein | June 13, 2018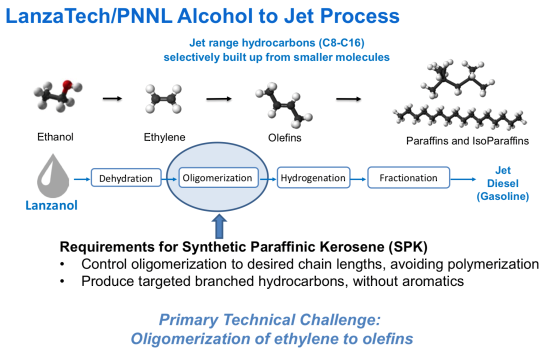 Schematic of the four-step process of dehydration, oligomerization, hydrogenation and fractionation to produce jet-range hydrocarbons. Source: PNNL
Prospects for the production and use of ethanol-derived jet fuel just improved with the recent revision of ASTM D7566 Annex A5 — the Standard Specification for Aviation Turbine Fuel Containing Synthesized Hydrocarbons. ASTM International document now includes ethanol as an approved feedstock for producing alcohol-to-jet synthetic paraffinic kerosene (ATJ-SPK).
The change was largely brought about by technology demonstrated by the U.S. Department of Energy's Pacific Northwest National Laboratory (PNNL) to convert ethanol into ATK-SPK. The thermocatalytic process converts ethanol from any source into ethylene via dehydration. An oligomerization step next chemically combines thylene molecules to produce the range of hydrocarbon feedstocks needed for aviation fuel. These constituents are hydrogenated and fractionated to yield alcohol-to-jet synthetic paraffinic kerosene with the desired properties.
The agency collaborated with partner LanzaTech to scale up the catalyst while the latter scaled up its waste gas-to-ethanol process to yield 4,000 gallons of ethanol-derived ATJ-SPK. A review of data compiled by LanzaTech by the U.S. Federal Aviation Administration and aircraft and engine OEMs verified that the ATJ-SPK meets all fit-for-purpose properties required by ASTM D4054, the Standard Practice for Qualification and Approval of New Aviation Turbine Fuels and Fuel Additives. ASTM membership approve the addition of ethanol as a feedstock in ASTM D7566 Annex A5 along with increasing the blend ratio of ATJ-SPK to 50 percent from 30 percent. As a result, sustainable aviation fuel produced from ethanol using an alcohol-to-jet process can be used by commercial airlines in up to 50 percent blends with conventional jet fuel.