This Utility Says It Will Be All Renewable by 2020
David Wagman | May 31, 2018
MidAmerican Energy Co. says it is on track to be the first investor-owned electric utility in the U.S. to generate renewable energy equal to 100 percent of its customers' usage on an annual basis.
The prediction comes as the Iowa utility says it plans to spend $922 million for a 591 megawatt (MW) wind farm that could enter service in late 2020.
The company estimates Wind XII will create 28 full-time positions for ongoing operations and maintenance.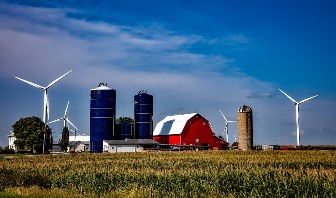 Iowa ranks third in the nation in terms of installed wind generating capacity. Photo credit: PixabyBased in Des Moines, Iowa, the utility serves 770,000 electric customers and 751,000 natural gas customers in Iowa, Illinois, Nebraska, and South Dakota.
In late 2017 MidAmerican began work on a 340 MW, $500 million wind farm in Poweshiek County, Iowa, the third site in the state selected as part of the utility's Wind XI project.
The North English wind farm is scheduled for completion in December 2018 and could employ up to 15 people when it enters service. It will include up to 170 Vestas 2.0 MW wind turbines built across 36,000 acres. The turbines will interconnect to the existing Montezuma 345 kilovolt substation.
Construction on other projects in the Wind XI project will start in 2018 and 2019. Altogether, the $3.6 billion initiative will consist of up to 1,000 wind turbines and 2,000 MW of wind generation capacity in Iowa when complete.
Many utility-scale wind energy projects depend on the federal Renewable Electricity Production Tax Credit. The credit is being phased out and is due to end entirely after 2019. As a result, the American Wind Energy Association (AWEA) estimated that around 21 gigawatts of wind power capacity are either under construction or in advanced development.
AWEA says that Iowa currently generates around 37 percent of its electricity from wind power. That places the state first in the nation for wind energy as a share of total electricity generation. Iowa also ranks third in the nation for installed capacity.
Repowering
In October 2017, MidAmerican received regulatory approval to upgrade hundreds of its older wind turbines in Iowa. The plan would enable the company to repower around 475 MW of wind-generating capacity to make the turbines more efficient and productive.
Many of MidAmerican Energy's older General Electric wind turbines will be retrofitted with newer, more efficient components, including longer blades, to extend the life of the turbines.