Repowering older wind turbines, which involves replacing aging turbines or components, is becoming more common in the United States as the turbine fleet ages and wind turbine technology advances.
Newer turbines tend to be larger and installed at greater heights, allowing for more capacity per turbine. About 12 percent of the wind turbines in the United States were installed before 2000, but these turbines make up only two percent of the installed wind electricity generating capacity, according to the Energy Department's Energy Information Administration (EIA).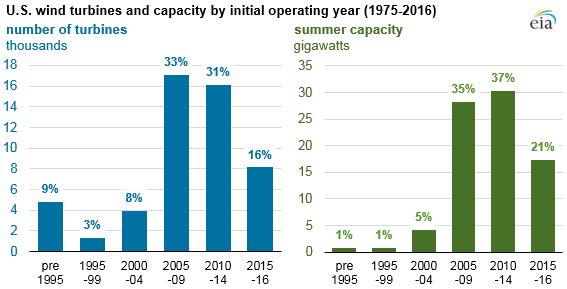 Credit: EIAFederal production tax credits provide an incentive to increase electricity generation from existing wind turbines. In December 2015, the production tax credit (PTC) was extended until the end of 2019. The four-year extension and legislated phase-out of the PTC is expected to encourage many asset owners to repower existing wind facilities to requalify them for another 10 years of tax credits. A facility may still qualify for the PTC as long as at least 80 percent of the property's value is new. This provision allows many owners to repower existing turbines without completely replacing them.
Fully repowering wind turbines involves decommissioning and removing existing turbines and replacing them with newer turbines at the same project site. Full repowering has mostly occurred in California, where many turbines were installed at high-wind sites before 1990.
Wind farms also can be partially repowered. This involves leaving some portion of the existing wind turbine and replacing select components. By partially repowering, owners can increase hub heights and rotor diameters to produce more energy.
Wyoming Upgrade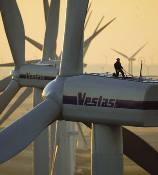 Working stands atop a wind turbine nacelle. Credit: VestasRocky Mountain Power says it plans to upgrade around 900 MW of wind generating capacity in Wyoming with larger blades, better control systems, and other technology. The $1 billion in upgrades are planned to be complete by the end of 2020. The company submitted its requests for regulatory review at the end of June 2017 and a decision is expected during March 2018.
The upgraded turbines will continue to use existing towers and foundations and will be completed within existing project footprints. The repowering is expected to increase the energy production of the wind projects by 11-35 percent. The utility expects to re-qualify the wind projects for federal production tax credits for another 10 years. The tax benefits are expected to pay for the cost of the upgrades.
EIA says that although wind turbines are designed with lifespans of 20-25 years, wind capacity factors decline with age as mechanical parts degrade. The United Kingdom's Engineering and Physical Sciences Research Council in 2014 indicated that, on average, the output of wind turbines declines by about 1.6 percent each year. Repowering can increase a wind facility's output, improve reliability and extend the facility's life by taking advantage of advances in wind turbine technology.
Newer turbines tend to rotate much more slowly and quietly than older, smaller turbines, turning at 10 to 20 revolutions per minute (rpm) instead of 40 to 60 rpm. Slower wind turbine rotations alleviate issues such as bird mortality and shadow flicker.
Repowering Challenges
Repowering generally requires less investment compared with new projects. However, repowering wind turbines does present some challenges, according to EIA. For example, the risk of failure may increase when reusing components such as towers and foundations that were designed for smaller turbines. Other challenges may include renegotiating power purchase agreements, interconnection agreements and leases.
According to General Electric (GE), repowering wind turbines can increase the fleet output by 25 percent and can add 20 years to turbine life from the time of the repower. GE has repowered at least 300 wind turbines, and the company expects this market to grow. MidAmerican Energy recently awarded a contract to GE Renewable Energy to repower as many as 706 older turbines at several wind farms in Iowa. After repowering, each turbine is expected to generate between 19-28 percent more electricity.
The National Renewable Energy Laboratory (NREL) has indicated that annual U.S. wind repowering investment has the potential to grow to $25 billion by 2030. EIA data indicate that three projects are currently planned for repowering: Mendota Hills, LLC in Illinois and Sweetwater Wind 2 LLC in Texas are scheduled for repowering in 2018, and Windpark Unlimited 1 in California is scheduled for repowering in 2022. NextEra Energy is planning to repower two wind farms in Texas by the end of this year.