Watch: All Renewable Utility, Ideal Amount of Caffeine, Goggle and Project Maven
June 08, 2018
Welcome to this week's Engineering360 news brief.
Utility Says It Will Be All Renewable by 2020
MidAmerican Energy Co. says it is on track to be the first investor-owned electric utility in the U.S. to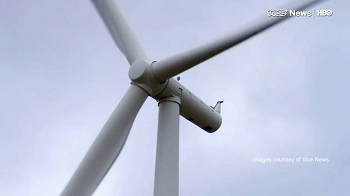 Source: Vice Newsgenerate renewable energy equal to 100 percent of its customers' usage on an annual basis. The prediction comes as the Iowa utility says it plans to spend $922 million for a 591-megawatt wind farm that could enter service in late 2020. Many utility-scale wind energy projects depend on the Federal Renewable Electricity Production Tax Credit, which is being phased out and is due to end entirely after 2019. As a result, the American Wind Energy Association (AWEA) estimated that around 21 gigawatts of wind power capacity are either under construction or in advanced development.
AWEA says that Iowa currently generates around 37 percent of its electricity from wind power. That places the state first in the nation for wind energy as a share of total electricity generation. Iowa also ranks third in the nation for installed capacity.
Ideal Amount of Caffeine for Peak Performance
The U.S. Army is hard at work on an algorithm that will best determine the amount of caffeine necessary to keep a person functioning at peak performance, based on factors such as individual physiology. The caffeine-dosing strategy relies on the algorithm to make predictions about how much caffeine an individual should consume and when to consume it to most effectively stave off sleep while also maintaining peak functioning. Based on data, the algorithm developed "caffeine consumption schedules" that demonstrated peak performance results, in some cases using 65 percent less caffeine, or enhanced episodes of peak performance by 64 percent using comparable amounts of caffeine. The algorithm is currently being tested on soldiers in training, yet developers see it someday being useful for shift workers, doctors, nurses or truck drivers.
Google and Project Maven
Tech giant Google will reportedly let a contract with the U.S. Pentagon's Artificial Intelligence (AI) Project expire after thousands of Google employees signed a petition to protest the company's involvement. Describing the plan in a statement back in 2017, Scott Frohman, a defense and intelligence sales lead at Google, explained, "Maven is a large government program that will result in improved safety for citizens and nations through faster identification of evils such as violent extremist activities and human right abuses. The scale and magic of GCP (Google Cloud Platform), the power of Google (machine learning) and the wisdom and strength of our people will bring about multi-order-of-magnitude improvements in safety and security for the world."
Now, remember to check out Engineering360 and Electronics360 for more news and information like this — plus engineering reference guides, product spec sheets and videos of interest.