Block Polymer Membranes Boost Desalination Efficiency
S. Himmelstein | May 05, 2018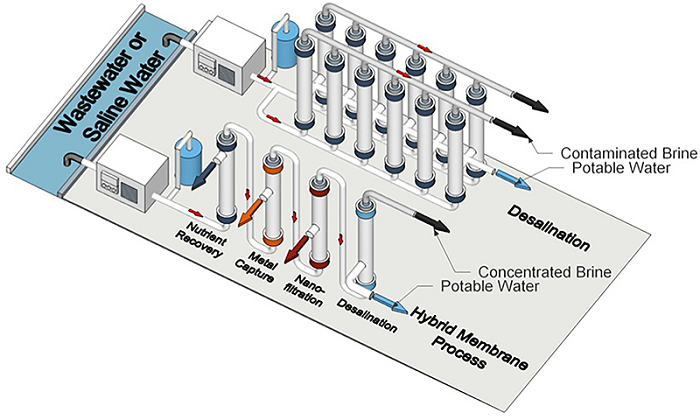 Current desalination processes and emerging hybrid ones could use a block polymer membrane to treat unconventional water sources. Source: University of Notre Dame/Yizhou ZhangOpportunities for desalination and filtration of wastewater could expand with use of a block polymer membrane engineered by researchers from the University of Notre Dame and Purdue University. The membrane might also enhance emerging hybrid water treatment processes that simultaneously recover substances for other purposes.
A limitation of nanofiltration membranes currently in use is irregular pore sizes that tend to allow too much of a substance into the filtered water. Due to strong covalent bonds that tie together the blocks of different polymers in a block polymer membrane, nanoscale instead of macroscale holes form between the polymers. This results in a denser pattern of smaller same-sized pores throughout the membrane that can be adjusted to prohibit the entry of a variety of particles.
Block polymers also address the fact that different substances respond to membranes differently due to chemical properties. Modifying the third block, which lines the inside of a pore opening, attracts certain molecules over others and enables controlling the rejection or absorption of specific constituents.
The ability to customize pore size and chemistry suggests that block polymer membranes could more effectively recover valuable resources, such as gold and silver, or trap heavy metals. Manufacturing costs would be slightly higher for block polymer membranes relative to nanofiltration devices, but their resiliency and ability to reduce chemical demands for membrane cleaning mean less capital investment and environmental impact of desalination operations.
The research is published in Nature Partner Journals — Clean Water.