Porous Polymer Membranes with a Twist
Riia O'Donnell | June 01, 2016
A team from Imperial College London has developed a twisted means to create polymer membranes that have enhanced permeance because of their molecular design.
The membranes have the potential to make chemical separation processes up to two orders of magnitude more efficient than conventional membranes.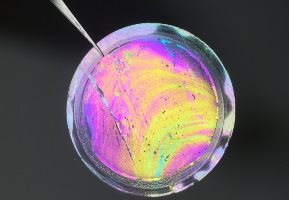 Porous polymer made with twisted monomers. Image source: Kim Jelfs, Department of Chemistry, Imperial College LondonIndustrial chemical separation processes are costly and can use a lot of energy. The processes often use thermal separation, such as distillation and evaporation, and produce a relatively low level of permeance of gas and liquids. Polymer membranes to separate gases and chemicals are more efficient, non-thermal solutions. But the researchers say it has been difficult to develop membranes that are resistant to organic solvents that are used in petrochemical refining and chemical separation processes.
The research team's approach links monomers to form crosslinked network polymers. The twisted monomers were used to synthesize a microporous polymer the researchers call "polymers of intrinsic microporosity" (PIMs). The PIMs have a larger volume of internal cavities, which allow the membrane to be permeable. The network polymer, meanwhile, is the scaffold that keeps the membrane rigid and stable.
The new membranes may have a range of applications across industries, including purifying oil and natural gas, desalination, carbon dioxide capture and solvent nanofiltration. The membranes are a more efficient, non-thermal solution that has the potential to reduce energy consumption.